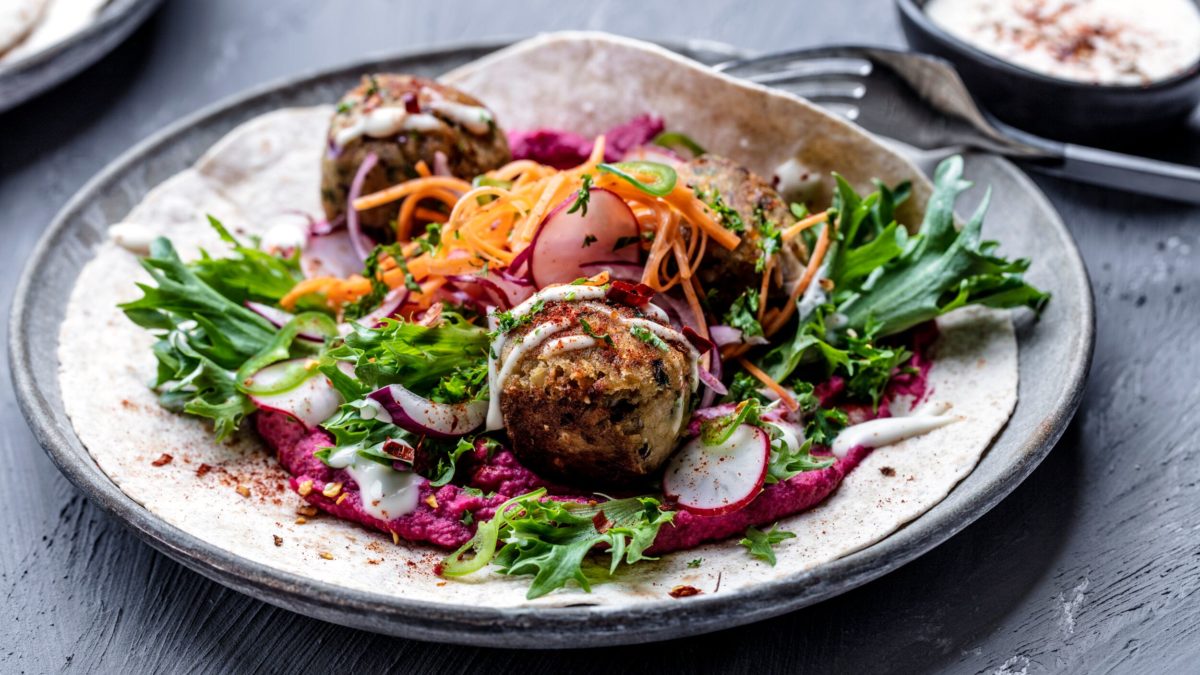 What to serve on a Saturday night? The most delicious falafel wraps with beetroot hummus ever? Yes please. This is the 6th recipe in EAT's one week dinner menu. It is made by Norwegian chef Lise Finckenhagen and aligns with EAT-Lancet's Planetary Health Diet.
Serves: 4 portions
Time: approx. 1 hour     
The best falafels
450 g chickpeas, cooked
1 red onion
3 cloves of garlic
1 red chilli
2 tbsp potato starch
2½ tsp ground cumin
2 tsp ground coriander
1 tbsp lemon juice
100 ml fresh parsley, chopped
100 ml fresh coriander, chopped
2 tbsp sesame seeds, toasted
Salt and pepper
Oil for frying
Beetroot hummus
400 g chickpeas, boiled
2 medium beetroot, cooked
½ tsp ground cumin
2 tbsp raw tahini
1 large clove of garlic
2 tbsp lemon juice
2 tbsp olive oil
Salt
Marinated vegetables
1 small red onion, thinly sliced
100 g radishes, thinly sliced
1 carrot, spiralised
1 tbsp vinegar
1 tbsp liquid honey
1 tbsp water
To serve and garnish
4 wholemeal tortilla wraps
4 tbsp natural yoghurt
Chilli or pickled jalapeños, thinly sliced
Fresh parsley or coriander, chopped
Instructions
It is recommended to start with the vegetables, so that they can marinate while you are preparing the other ingredients. Both the falafels and the hummus can be prepared well in advance of when you plan to eat it.
Peal and thinly slice the onion and the radish, and cut the carrot into thin strips. Mix the vinegar, honey and water before adding the vegetables. Mix thoroughly and leave to marinate for half an hour.
Thoroughly rinse the chickpeas for the falafels under cold running water. Leave to drain and dry thoroughly on a tea towel (try to get the chickpeas as dry as possible). Finely chop the red onion and garlic. Cut the chilies lengthways and scrape out the seeds before chopping.
Using a food processor, blend the chickpeas, onion and garlic to a smooth paste. Add the potato flour, cumin, coriander, chili, lemon juice and herbs. Blend everything together until it resembles a moldable mass. Season with salt and pepper and add the sesame seeds at the very end.
Shape the mass into 16 small balls. It may be best to make the falafels in advance and keep them in the refrigerator until they are ready for serving/frying. Heat a little oil in a frying pan and fry the falafels until they are golden and crisp just before serving.
For the hummus, thoroughly rinse the remaining chickpeas in cold water and use a food blender to blend them to a coarse pulp. Add the beetroots, cumin, tahini, finely-chopped garlic, lemon juice and olive oil. Blend to a smooth paste, adding a little water (about 50 ml) if the hummus seems really thick. Add salt to taste.
Fill the warm wholemeal wraps with the hummus and falafels. Top with a little yoghurt and some marinated vegetables. If you want it more fancy, sprinkle with a little finely-chopped chili and some extra herbs.
Weekly Dinner Menu #planetaryhealthchallenge