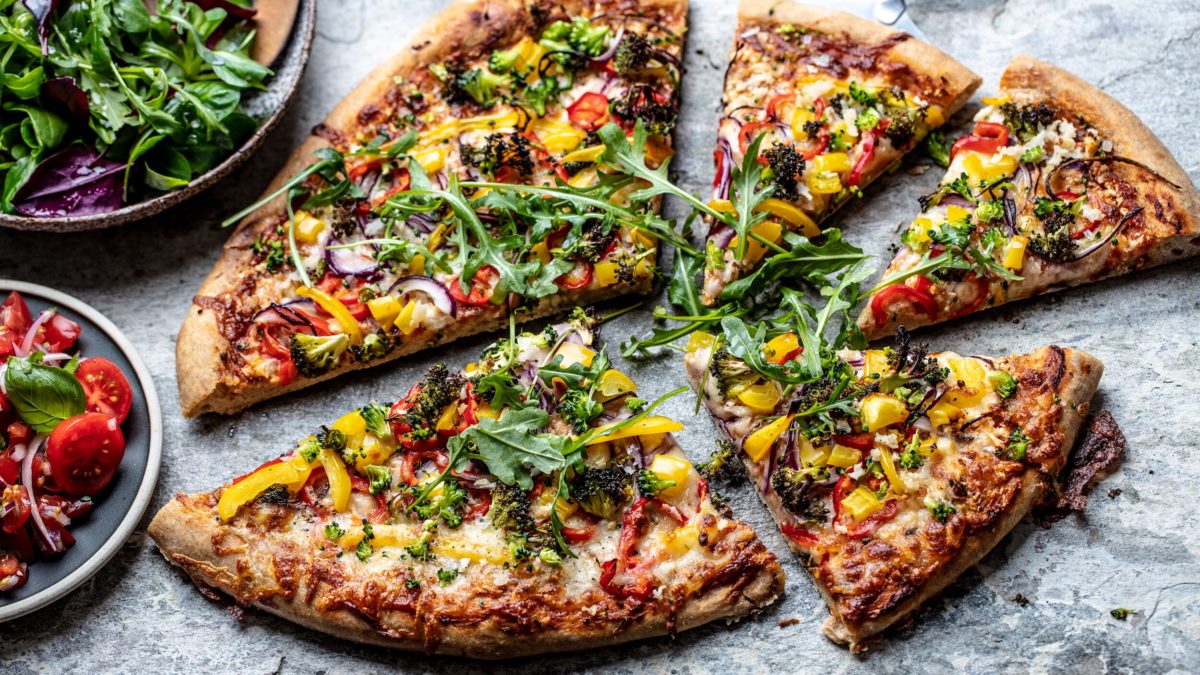 Veggie pizza is probably the best way to kick-off a week of planetary health! This is the 1st recipe in EAT's one-week dinner menu. It is made by Norwegian chef Lise Finckenhagen and aligns with EAT-Lancet's Planetary Health Diet.
Serves: 4–6 portions       
Time: approx. 1 hour + preparation time 
Pizza base
40 g fresh yeast
400 ml water at room temperature
400 ml plain flour
400 ml wholemeal flour, finely sieved
4 tbsp olive oil
1 tsp salt
Veggie pizza topping
200 ml tomato sauce
2 red onions
1 yellow pepper
1 green pepper
1 sweet pepper
½ broccoli
½ cauliflower
200 g grated cheese
2 tbsp olive oil
Salt flakes
Small salad leaves and/or basil to garnish
Instructions
Crumble the yeast into a baking bowl, pour over the water and stir until the yeast has dissolved. Add the plain and wholemeal flour and quickly work the mixture into a dough. Add the olive oil and salt and knead the dough for 10-15 minutes, until it is smooth and elastic (kneading at full speed for the last few minutes). Cover the baking bowl with cling film and put a tea towel over the top. Leave the dough to rise until it has doubled in volume.
Peel and cut the onion and pepper into thin slices. Break the broccoli into small florets and shred the cauliflower.
Heat the oven to 220 degrees. Fold the dough together and divide into two equal-size portions. Roll each portion out into two pizza bases, transfer them to a baking tray covered with greaseproof paper. Spread the bases with tomato sauce and sprinkle with the cheese and cauliflower. Add the onion, pepper and broccoli. Drizzle with olive oil and sprinkle with a few flakes of salt.
Bake the pizza on the middle shelf until the vegetables are soft, the surface is golden and the base is baked. This should take about 20-25 minutes.
Have fun with your pizza and add the veggies you love!
Weekly Dinner Menu #planetaryhealthchallenge