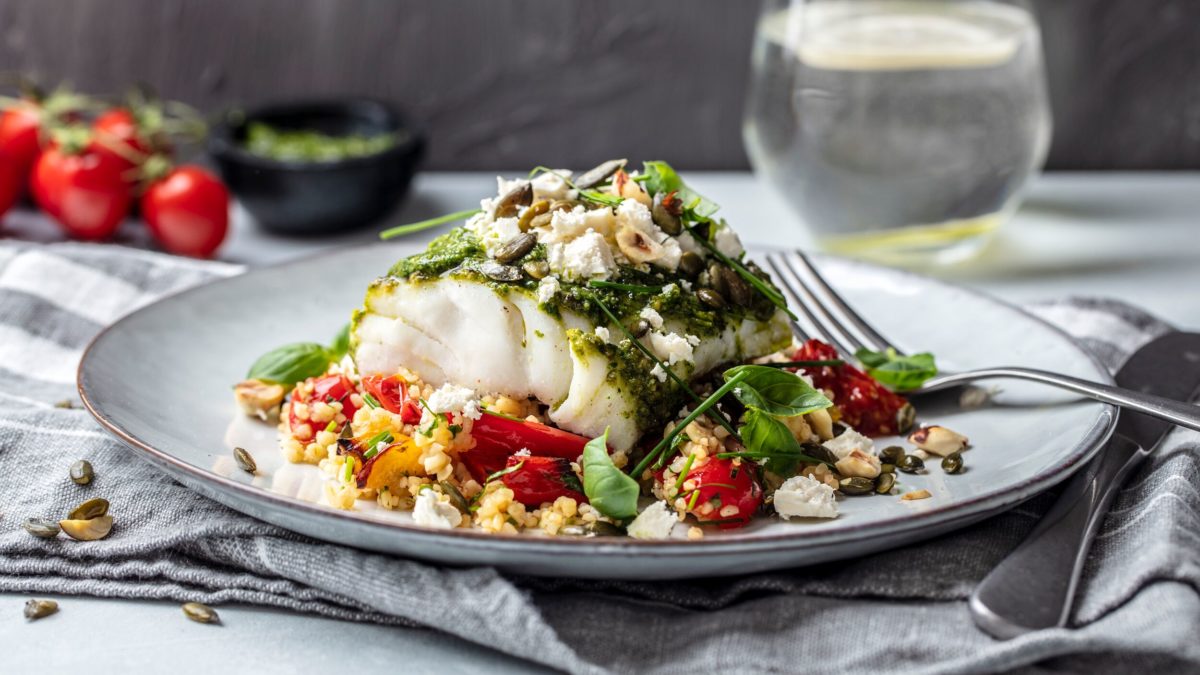 Keep your belly and friends happy with this healthy dish! This is the 2nd recipe in EAT's one week dinner menu. It is made by Norwegian chef Lise Finckenhagen and aligns with EAT-Lancet's Planetary Health Diet.
Serves: 4 people
Time: approx. 40 min
Baked cod with creamy pesto
600–800 g cod fillet
250 ml bulgur wheat
2 red peppers
1 yellow pepper
400 g cherry tomatoes
3 tbsp olive oil
2 tbsp lemon juice
1 clove of garlic
1 tsp fresh ginger, grated
100 ml fresh coriander, parsley and/or basil, chopped
2 tbsp fresh mint, chopped
80 g feta cheese
4 tbsp basil pesto
salt and ground pepper
Instructions
Cut the cod into four evenly-sized pieces. Prepare/boil the bulgur wheat as directed on the pack. Clean the peppers and cut them into rough pieces. Cut the tomatoes in half.
Mix the peppers and tomatoes in a suitable oven-proof dish. Drizzle 1 tablespoon of olive oil on top and season lightly with salt and pepper. Roast the vegetables at 200 degrees for about 15 minutes, or until they are soft and lightly golden.
Mix the boiled bulgur wheat with the vegetables. Whisk together 2 tablespoons of olive oil, lemon juice, finely-chopped garlic, ginger and herbs to make the dressing. Season with salt and pepper and mix it into with the "salad".
Place the pieces of fish on top, season with salt and pepper and spread a teaspoonful of pesto on each piece. Put the tray back in the oven and roast for another 12 minutes or until the cod flakes easily. Sprinkle feta cheese on top and perhaps garnish with a little more of the herbs. Enjoy!
Weekly Dinner Menu #planetaryhealthchallenge