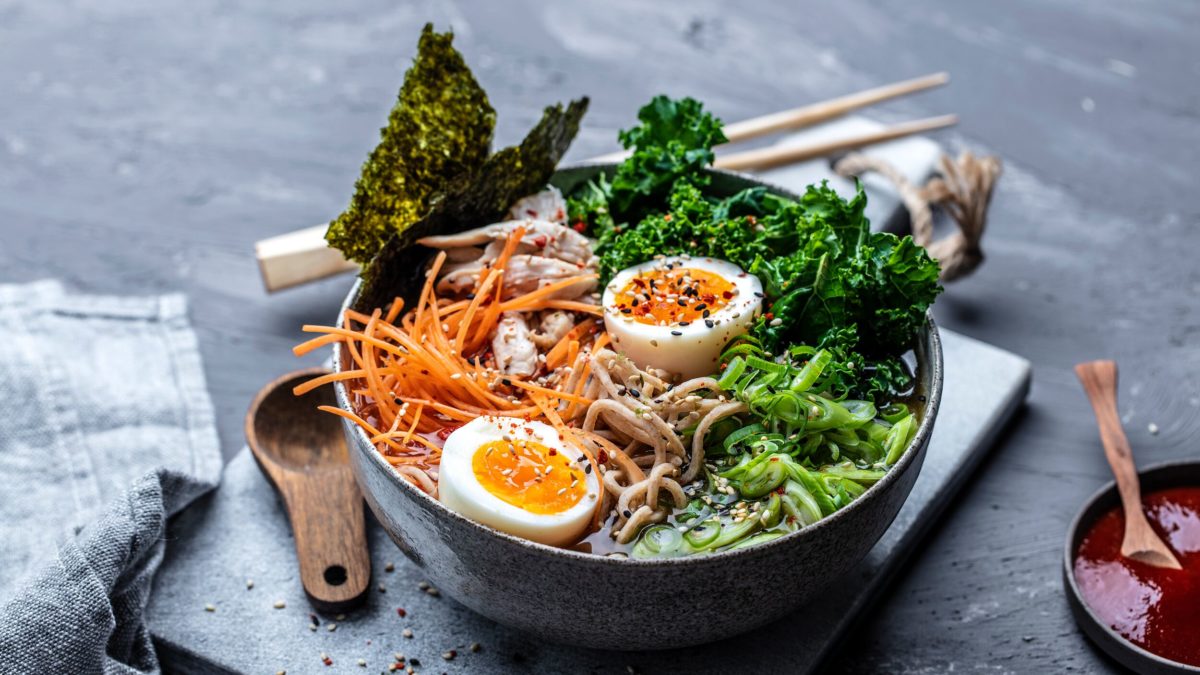 Is there anything as good as a delicious ramen soup? This is the 3th recipe in EAT's one week dinner menu. It is made by Norwegian chef Lise Finckenhagen and aligns with EAT-Lancet's Planetary Health Diet.
Serves: 4 portions
Time: approx. 30 min
Chicken ramen broth
1 tbsp sesame oil
1 tbsp ginger, grated
1 tbsp garlic, grated
1½ liters chicken stock
3 tbsp soy sauce
Chicken ramen ingredients
250 g whole wheat noodles
100 g carrots
100 g kale
4 spring onions, thinly sliced
400 g chicken breast, fried or steamed
4 eggs, soft-boiled
Dried chili powder
Sesame seeds
1 sushi sheet (nori) in pieces or strips
Chili sauce
Instructions
 Fry the ginger and garlic with 2 teaspoons of sesame oil over a medium heat in a saucepan. Add the chicken stock and bring to a boil. Add soy sauce (to taste) and the rest of the sesame oil. Cook the noodles as described on the pack. Wash the carrot and cut into thin strips. Wash the kale and tear into fairly small pieces (perhaps rubbing them a little between your hands to soften the leaves). Thinly slice the spring onions, and tear or cut the chicken into appropriately-sized pieces or slices.
Dish out the noodles and add the carrot, kale, spring onions and chicken. Pour over the steaming hot soup and top with a soft-boiled egg cut into two. Sprinkle the dried chili flakes, sesame seeds and pieces or strips of nori over each bowl. Serve immediately, perhaps with a little chili sauce on the side (so that each person can season the soup as they want).
The dish can easily be made vegetarian by replacing the chicken stock with vegetable broth, and by replacing the chicken with tofu, tempeh or seitan. Have fun with it!
See all the recipes from EAT's one week dinner menu here.
Weekly Dinner Menu #planetaryhealthchallenge