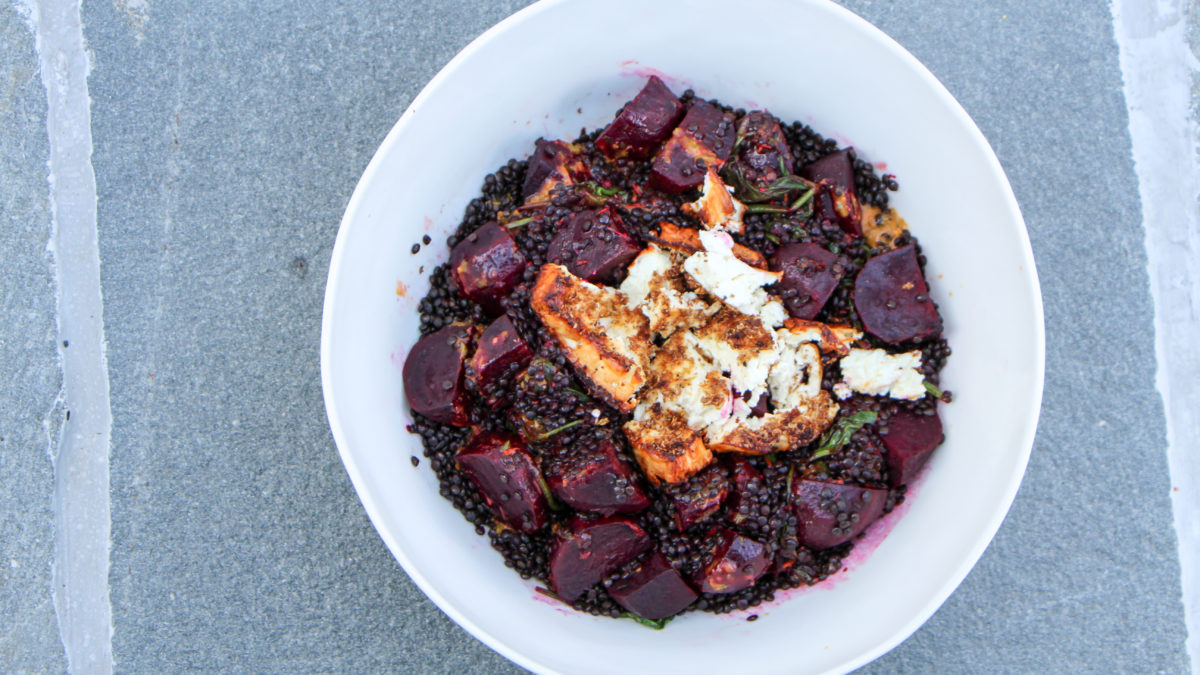 Fresh & tasty salad packed with nutrition? Yes, please. This yummy recipe is made by the Norwegian food blogger Line Bruu from myesmak.no and aligns with EAT-Lancet's Planetary Health Diet.
Beluga Lentils for 4-6 people
Preheat oven on 180°C
4 large or 8 small beets, peeled and cut into wedges
5-6 cloves of garlic, skin on
A few tablespoons of extra virgin olive oil
5 ss Balsamico or red wine vinegar
salt and pepper
1/2-1 dl water
Mix everything in a baking tray, cover with foil and roast in the oven for about an hour.
3 handsful of baby spinach, washed and dried
Remove the tray from the oven when the beets are cooked through, remove the garlic cloves and set aside, and mix the spinach with the beets. Put the tray back in the oven and leave for a few minutes- until the spinach has wilted. Take the tray out of the oven and set aside.
Craving pizza? Try this delicious vegetarian one!
Set the oven to 220°C.
400g Beluga lentils (you can also use puy lentils or other small lentils)
Balsamicovinager
Extra virgin olive oil
2-3 tomatoes, or 8-10 cherry tomatoes
Boil the lentils as directed on the pack, together with the tomatoes. When the lentils are done (make sure they are a bit 'al dente'), pour out the water and pick the tomatoes out an put them on the side. Add salt, pepper, olive oil vinegar to the lentils to taste, and mix with the beets.
One pack of Greek feta cheese
The rind of one organic lemon (keep the juice for the dressing)
1-2 ts coriander seeds, coarsely ground in a mortar
Dried chili flakes
pepper
Extra virgin olive oil
Put the feta cheese in a small roasting tin. Cover all sides of the block of cheese with olive oil, lemon rind, coriander, chili flakes and pepper. Put the tray in the oven.
While the feta cheese is roasting; prepare the dressing:
Loads of fresh herbs- I like to use mint, basil and oregano
Extra virgin olive oil
Lemon juice to taste
Blend together the herbs, oil, lemon juice, the boiled tomatoes and the oven-baked garlic. Press the garlic out of the skin.
The best veggie tacos? We got you! 
Mix the dressing with the beets and lentils. As soon as the feta cheese is brown and crisp on the edges, you put it on top of the lentils. Serve immediately.
Optional: mix in some crispy rocket salad and some pistachio nuts for contrast and added nutrients.