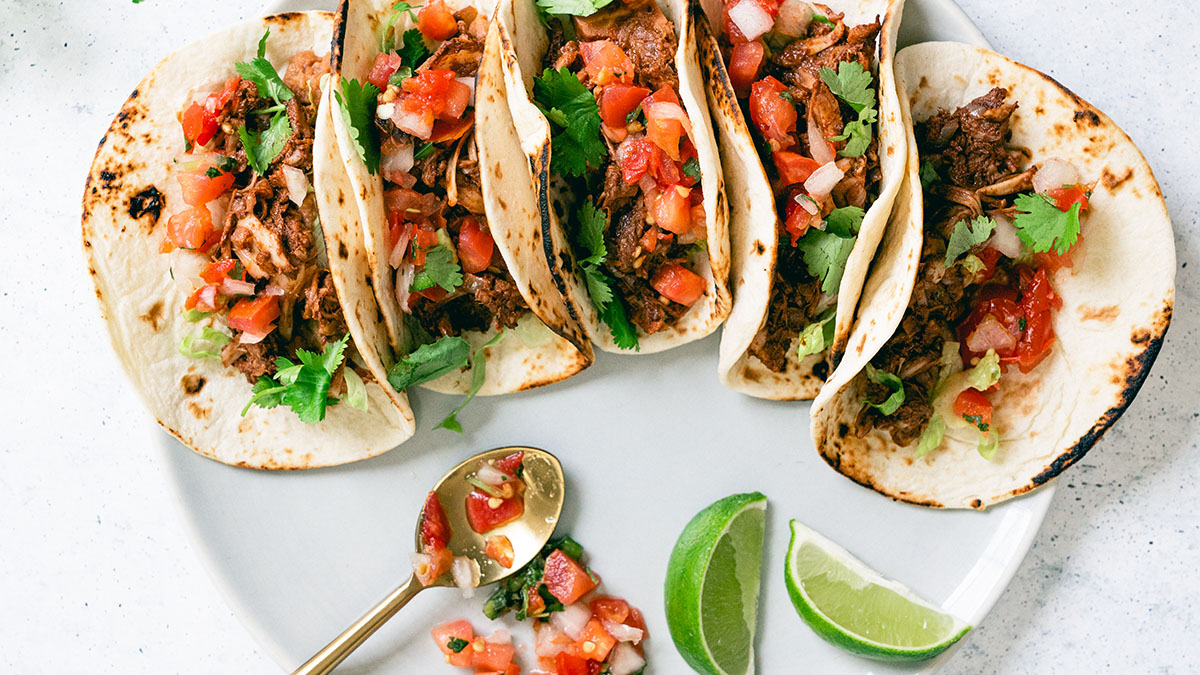 Jackfruit is perfect to use as a plant-based substitute for pulled pork. And one of the best ways to eat it? Tacos: a fast and easy dinner recipe for weeknights. This yummy recipe is made by Alex and Sonja Overhiser from A Couple Cooks and aligns with EAT-Lancet's Planetary Health Diet.
Where is Jackfruit from?
Jackfruit is a tropical fruit that originated in India and is common in Southeast Asia. It's now popping up all over the world as a plant-based meat alternative.
Why? Unripe jackfruit soaks up the flavor and has a stringy, "meat-like" texture when cooked. Jackfruit is also packed with nutrients, including fiber and antioxidants.
Love tacos? Try this Crispy Cauliflower Tacos!
Where can I buy jackfruit?
You can find canned green jackfruit online or in the canned fruit aisle in some supermarkets. It's typically sold fresh, frozen and canned. Important: make sure to use canned, green jackfruit for this recipe! Do not buy ripe jackfruit.
Ripe jackfruit is a yellow fruit that is packaged as the whole fruit and does not work as pulled pork. Ripe jackfruit can be used in smoothies or ice cream, but it won't work for these jackfruit tacos.
Find the best recipes with Basil from A couple of Cooks here.
Jackfruit Tacos
2

 15-ounce cans green jackfruit in water or brine

1/2 cup

 minced yellow onion

3

 cloves garlic

2 tablespoon

s extra virgin olive oil

1

 to 

1 1/2

 tablespoons adobo sauce (from 

1

 can chipotle peppers in adobo)

2 tablespoon

s cocoa powder

2 tablespoon

s tomato paste

2 teaspoon

s ground cumin

1 teaspoon

 oregano

1/4 teaspoon

 salt

1/2 cup

 water

8

 tortillas (or more small street-style tortillas)
Chopped romaine
Fresh cilantro
Salsa Fresca or any fresh salsa
Refried beans, to serve on the side
Instructions
Rinse and drain the jackfruit in a colander, pressing down to extract as much water as possible. Run your hands through the pieces, pulling and separating them into shreds with your fingers.
Mince the onion and the garlic.
Heat the olive oil in a large skillet over medium heat. Add onion and garlic and saute for 3 to 4 minutes until tender and fragrant but before the garlic browns. Add the jackfruit and remaining ingredients (add 1 tablespoon of adobo sauce for a mild recipe, up to 1 1/2 or 2 tablespoons for a spicier recipe). Cook for about 5 minutes on medium-low heat until saucy.
If desired, char the tortillas by placing them on an open gas flame on medium for a few seconds per side, flipping with tongs, until they are slightly blackened and warm. (See How to Warm Tortillas.)
To serve, place the jackfruit, romaine, salsa fresca, and torn cilantro leaves in a warmed tortilla. Serve immediately with refried beans.