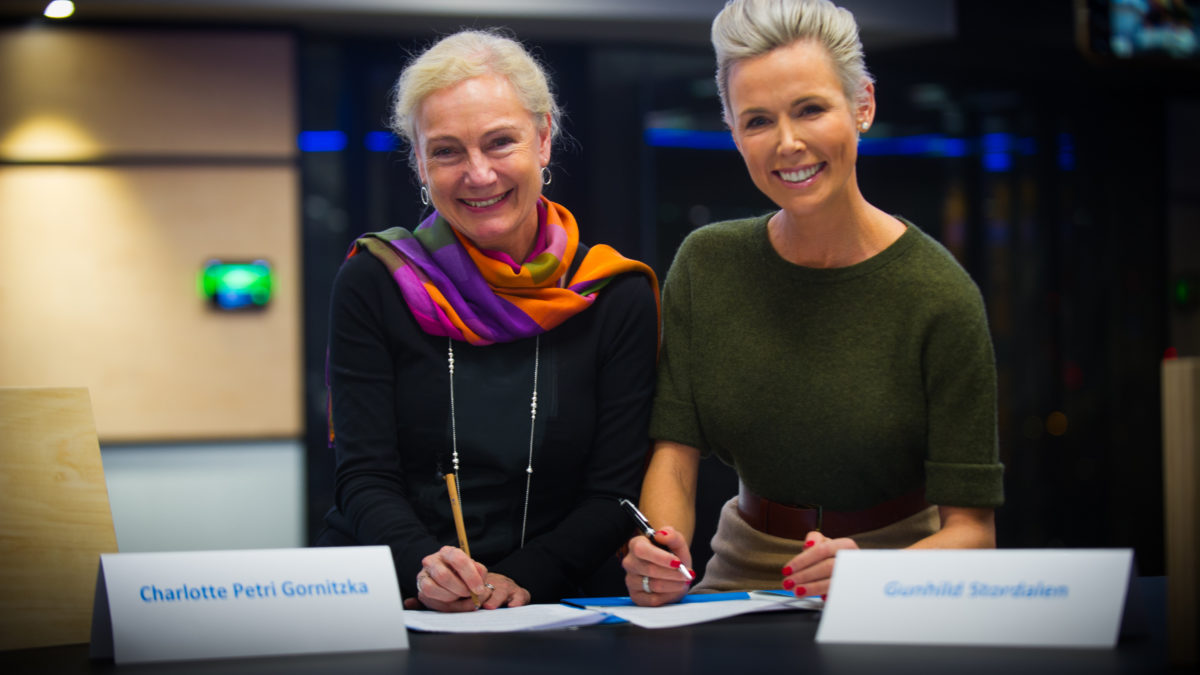 London, England, 14 October 2019 – UNICEF and EAT leadership signed an official letter of collaboration at the UNICEF UK Headquarters in London. Entitled Children Eating Well (CHEW), the collaboration aims to transform global food systems, protecting and promoting the right of children and adolescents to nutritious, safe and affordable diets within planetary boundaries.
EAT and UNICEF uniting for children everywhere
"Children and youth are calling from all corners of the globe for adults and institutions to take action on climate and their future. Signing the official CHEW partnership with UNICEF is an exciting response to their call to action, as it elevates the urgency of their call with commitment to informing better policy that can bring the great food transformation to life—for healthy young people, and a healthy planet," commented EAT Founder and Executive Chair Gunhild Stordalen.
An evidence-based, food systems approach
Building on collaborations dating back to 2017, both organizations commit through CHEW to an evidence-based advocacy and thought-leadership agenda focused on improved food environments for children and adolescents, founded on the recommendations of the 2019 State of the World's Children (SOWC) Report on Children, Food and Nutrition and the EAT-Lancet Commission's findings. EAT  and UNICEF also plan to develop  multi-stakeholder tools to guide integrated food system and food environment interventions  for children and adolescents. UNICEF and EAT will work with partners and across the UNICEF  network of offices and programs on city, country, and global levels.
"To fight malnutrition in all its forms, and to help children be healthy, we need to come together to improve food systems for children. The UNICEF and EAT partnership is a step in the right direction to drive changes in food systems so that children eat better," UNICEF Deputy Executive Director Charlotte Petri Gornitzka said.
The State of the World's Children in crisis
Momentum for the collaboration is evidenced in UNICEF's 2019 SOWC Report published on Tuesday, October 15. This year's SOWC Report  explores the issue of children, food and nutrition for the first time in last 20 years. EAT contributed to the report, which finds that a staggering number of children are either undernourished or overweight – a crisis which threatens both the survival of children and the development of nations.
"In the 2019 SOWC Report, UNICEF shows that one in three children under five is malnourished – stunted, wasted or overweight – and that the diets of two in three young children do not meet even basic quality criteria to grow healthy. There is no more pressing challenge than ensuring that all children have access to healthy diets, everywhere. I am glad to join forces with EAT to address this challenge," said Dr. Víctor Aguayo, UNICEF's Global Chief of Nutrition.
Collaborations already underway
Through joint activities at the Child Friendly Cities Summit in Cologne, Germany, UNICEF and EAT have begun working together on urban food system issues. On Tuesday October 15, EAT and UNICEF organized a Summit side event to co-create policy recommendations with youth for healthy and sustainable school environments. Results from both the SOWC Report and the youth side event informed a panel session co-organized by EAT and UNICEF on Thursday October 17. The session, called 'Transforming Urban Food Environments to Advance Children's Right to Nutrition and Health', also drew on the findings from a new joint policy brief: 'Making urban food environments fit for children', which showcases how, "[urban] food environments need to provide children, their families and communities with permanent access to nutritious food that is healthy, affordable and sustainably produced".
"This is just the beginning," said Sudhvir Singh, EAT Director of Policy. "Developing tools, integrated programs and advocacy that help ensure children in urban areas have the best opportunity to eat well is critical to our shared future. We are particularly excited to work with UNICEF toward our common goals."
Are you interested in more stories from EAT? We curate a monthly newsletter with news and updates, sent directly to your inbox. Sign up to our newsletter here.