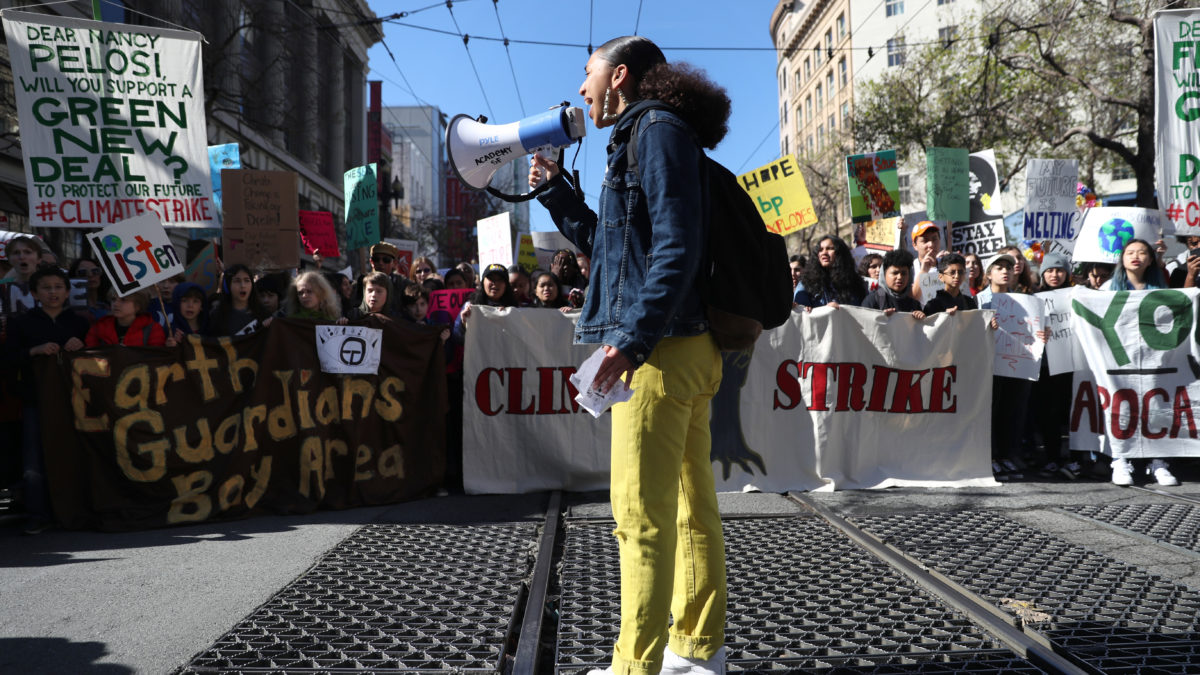 From India to the US and New Zealand to South Africa, young people are rising to demand greater action on climate change, biodiversity loss, hunger, malnutrition, food waste, plastic pollution, and more.
The climate strikes and other socio-political movements have made these global issues a part of the political conversation, arguably because of the immense pressure from the younger generation.
While Greta Thunberg is a key driver of the battle to fight climate change, there are plenty of other brilliant young leaders working to help us avoid a social and ecological collapse.
Here are five youth leaders who we think will change the world:
Xiuhtezcatl Martinez (19)
Since the age of six, Xiuhtezcatl Martinez has been campaigning for environmental justice, speaking at climate summits around the world. Today, the 19-year-old indigenous activist is the global youth director of Earth Guardians and one of 21 young people suing the Trump administration for failing to combat climate change.
We're one of the last generations that will have the chance to lead the way on thisXiuhtezcatl Martinez
Martinez uses hip-hip to deliver powerful messages and ultimately guide a global, youth-led movement dedicated to protecting the earth. And it is working.
Addressing world leaders at the United Nations (UN), given TED talks, receiving the United States Community Service Award from President Obama, and gathering hundreds of people in joining the climate strikes, Martinez is definitely making waves.
Yola Mgogwana (11)
Born and raised in Khayelitsha, one of Cape Town's impoverished townships, 11-year-old Yola Mgogwana "sees the effects of climate change every single day." One day it is hot, the next day it's heavily raining, and farmers and ultimately the whole community is suffering from its consequences.
We will not accept a life of fear and devastation. The crisis is now. People are dyingYola Mgogwana
Earlier this year, Mgogwana decided to do something about it. She started volunteering with an organization called the Earthchild Project, which works to educate school children and communities about the environment.
Through the organization, she has spoken to thousands of young people in Cape Town, empowering them to take action for a better future.
Ankit Kawatra (27)
India has 195 million hungry people. Ankit Kwatara wishes to end that. The young activist founded Feeding India, a not-for-profit aiming to solve hunger, malnutrition and food waste in the country.
I wish to eliminate hunger and make sure that the next generation reads about hunger in history booksAnkit Kawatra
By picking up food donations from weddings, individuals, restaurants, and offices, Feeding India delivers food to people in need, as well as serving nutritious meals at shelter homes and beneficiaries.
Kawatra was recently selected for the Queen's Young Leaders awards as well as the UN's Young Leaders for Sustainable Development Goals.
India Logan-Riley (25)
As a member of the organization Te Ara Whatu, India Logan-Riley is fighting to advance the rights of the indigenous people, who have always been at the forefront of environmental causes around the world.
We have to address climate change in a way that leaves no one behindIndia Logan-Riley
The activist from Aotearoa/New Zealand was part of the first indigenous youth delegation at the 2017 UN Climate Change Conference. Speaking to the leaders of the world, she addressed that "it's really important that the wider climate movement aligns itself with the aspirations of indigenous communities [and] amplifies the solutions that we advocate for."
Globally, over two million people depend on land help by Indigenous people for food, water, and air quality. These critical ecosystems are often protected by indigenous groups.
Boyan Slat (25)
The Dutch inventor Boyan Slat dropped out of his aerospace engineering studies to start The Ocean Cleanup – a foundation using advanced technology to clean the world's oceans of plastic.
For sixty years it has only gotten worse and worse. Now hopefully we're turning the tideBoyan Slat
Over five trillion pieces of plastic are currently littering our oceans. The largest garbage patches are located between Hawaii and California, and if left to circulate, the plastic will impact our ecosystems, our health, and our economy.
In 2018 the world's first ocean cleanup system was launched from San Francisco, soon after followed by deployment inside the Great Pacific Garbage Patch.  A full-scale deployment of The Ocean Cleanup system is estimated to clean up 50 % of the Great Pacific Garbage Patch every 5 years.
EAT is celebrating the International Youth Day from August 12 to August 16 by putting the spotlight on one youth leader every day – showcasing their work and telling their stories: Meet the young superheroes on EAT's Instagram.
Are you interested in more stories from EAT? We curate a monthly newsletter with news and updates, sent directly to your inbox. Sign up to our newsletter here.