Welcome to the Annual Gathering of the Extended EAT Family. And welcome to the city of Stockholm.
10 months ago, just a short subway ride from here, a young girl walked out of school and over to the Swedish parliament. With her, she had a hand-made poster, stating "School Strike for Climate". Her name is Greta Thunberg. She says: "What is the point of learning facts, when the most important facts clearly mean nothing to our society?". Greta claims that we, the generations before her, are stealing her future.
These past months, teens from all around the world have joined her cause, as she has addressed leaders at COP, Davos and the EU. Greta from Stockholm has become the face of one of the biggest environmental movements to date. There have been school strikes in more than 150 countries, and three weeks ago, millions of kids walked out of their classrooms, demanding not just hope, but real change.
Read more: Five Youth Leaders That Will Change the World. 
And here we are, in Greta's back yard; 1,000 grown-ups, from more than 80 countries. Most of us flew in by plane. I know, the potential impact of leaders gathering can by far outweigh the emissions it takes to get here. But only if we keep asking ourselves: What do we make out of this?
This year, we have never been in a better position to join forces and scale up efforts. We now have the first scientific targets for how to get it right on food, for both people and planet. That means, we can finally start to align actions, not based on trends, or ideologies or whatever that most likely will gain consensus, but based on the best available evidence.
The EAT-Lancet outlines a safe operating space at the global level, but does not give us answers for each country, culture or ecosystem. Nor the specific pathways to get there. That is why we, together with our partners, have ignited science-based dialogs across the globe.
In Ethiopia, we've listened to African Union leaders, striving to shift strategies from 'enough food' to 'enough quality food'. In Mexico, we've listened to consumers, calling on industry and government to change their unhealthy food environment. In France, we've listened to NGOs stressing how all transitions must be socially just. We've listened to smallholder farmers and ranch owners, entrepreneurs, investors, mayors, chefs and kids on strike! And now, here in Stockholm, we want to hear from you!
Watch all the highlights from EAT Stockholm Food Forum 2019 here.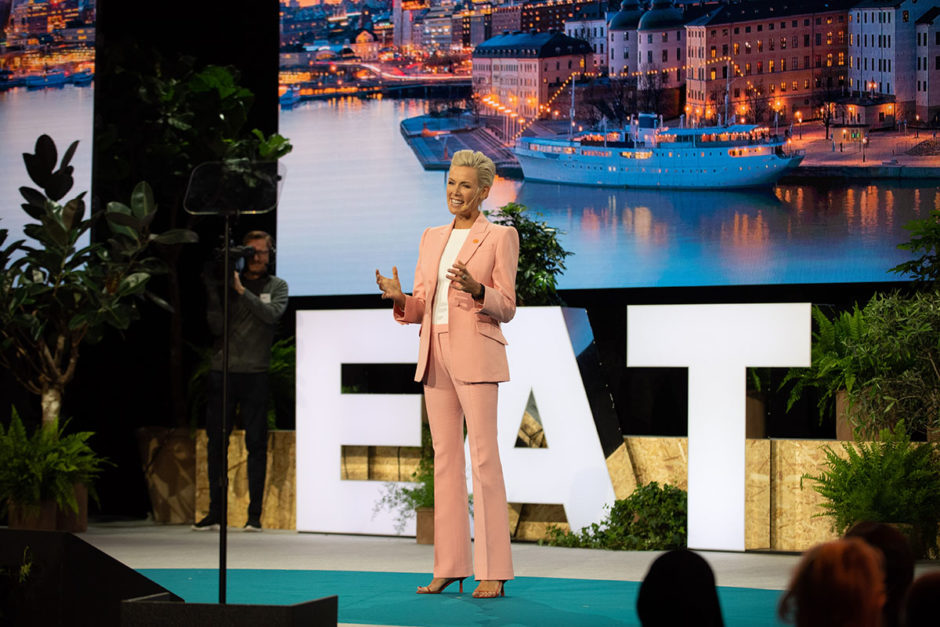 There are just as many faces of the food system as people on this planet. There will never be a "one size fits all" solution. There is, however, one thing, one key to our common way forward, the one-word scientists' stress, business calls for, and basically everyone highlights. And that is: collaboration.
What does 'collaboration' actually mean? It is not an excuse to tell others what to do, without taking responsibility on your own. Just like calling for broader coalitions should not serve as procrastination. Because change is inevitable.
"Collaboration" means rolling up our sleeves for a common goal, starting now. It means taking in other people's challenges and being open about your own. It means choosing to trust others, to help them trust you, and trusting that the long-term value of staying together, beats our individual short-term interests.
Ironically, for all to move forward, someone has to start! Like the governments of Indonesia and New Zealand, now adopting the EAT-Lancet targets into national policies. Just like Copenhagen is at a city level. And big companies, like Umoe and Hurtigruten, piloting EAT-Lancet measures in restaurants and foodservice operations.
Ronni Khan started rescuing food from a little van in Sydney. Her organization, OzHarvest, now engage all of Australia in cutting food waste. Chef Selassi Atadika started a nomadic eating concept in Ghana. She inspires with tasty ways to bring back forgotten African foods.
Tune in: Meet Selassi and Ronni in EAT's new podcast! 
These are only some of the many front-runners you will meet here over the next two days. Remember, that behind every example of leadership, big or small, is a story of personal commitment.
Governments don't change. People change governments. Companies don't change. People change companies. And when people come together, they can change communities. Even change the world.
The EAT hashtag has been #foodcanfixit. But at the end of the day, food won't fix anything, until we come together to fix food.
We are all aware of the urgency. The growing global health crisis, and natural ecosystems on the brink of collapse. But look around; a completely different ecosystem is emerging. A community of different actors, from different sectors, nations and backgrounds, but with vast collective powers. Our community is growing exponentially. So is the avalanche of small- and large-scale advances. Does it happen fast enough?
From time to time, I have to remind myself of our very first EAT Forum, five years ago. Back then, food was a totally scattered issue, rarely even mentioned in climate or health agendas. Now, basically everyone agrees that we need to reboot the food system, making it fair, healthy and sustainable. In 2019, the world is starting to grasp that the food transformation is just as crucial as the energy transition.
But unlike energy, food has got colors, smells and tastes that can trigger almost all our emotions.
It can make us feel good, and even live longer. And with food, almost everyone can make a difference. That makes food such a powerful tool for change.
All of us here are change-makers. If you came looking for simple takeaways, you will leave disappointed.
We invited you because every one of you has something to bring to the table. We expect a lot from you. The school children around the world demand even more.
Amongst us, there is a multitude of knowledge, resources, creativity and influence. Our joint efforts can create not only hope but real change.
What we bring home, to our countries, our organizations, even what we pass our dinner tables, can trigger that domino effect of global actions. If a schoolgirl can change the global conversation alone. Imagine what we can do together!
The stage is set to prepare a better food future for all. Not just for 2050 or 2030, but starting now.
So, a warm welcome to EAT Stockholm Food Forum 2019.
Watch all the highlights from EAT Stockholm Food Forum 2019 here.