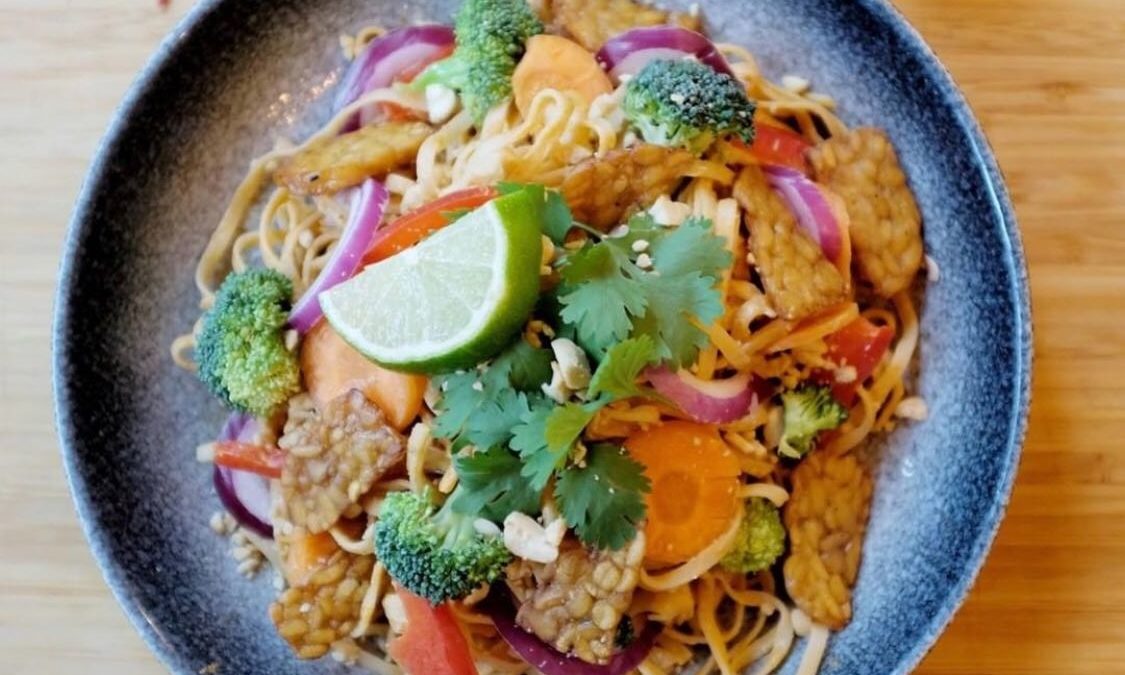 A tasty wok is always a good idea! This is one of the recipes featured in the #planetaryhealthchallenge. It is made by the Norwegian startup TUNCO and aligns with EAT-Lancet's Planetary Health Diet.
Serves: 4 portions
Time: approx. 20 minutes 
Planetary Health Wok
700 g of rice noodles (soaked in cold water for about 1-1,5 hours)
100 g carrots (don't peel it)
1 broccoli (use all)
1 kale
2 lime
1 red onion
2 cloves of garlic
100 g portobello mushrooms
Bundle of Thai basil
Bundle of cilantro
1 can of coconut milk
Red curry paste
Small bag of peanuts
350 g tempeh
Soy sauce
Brown sugar
Red curry sauce
Chop onion and garlic, and fry it in a small pan. Add 2 spoons of red curry paste, 1 can of coconut milk and a little water. Then add 2 spoons of soy sauce and 1 teaspoon of brown sugar. Add basil and as much lime juice as you find suitable.
Instructions
1. Get your woking pan ready, turn it on to full heat and add your cooking oil.
2. Wok one portion at a time, to keep the vegetables crispy.
3. Cook the vegetables for one minute before adding 2-3 tablespoons of the red curry sauce.
4. Flip the wok when your cooking, preferably every 10 seconds. The wok is ready when there is no more sauce in the pan.
5. For the topping, use lime, finely chopped cilantro and peanuts.