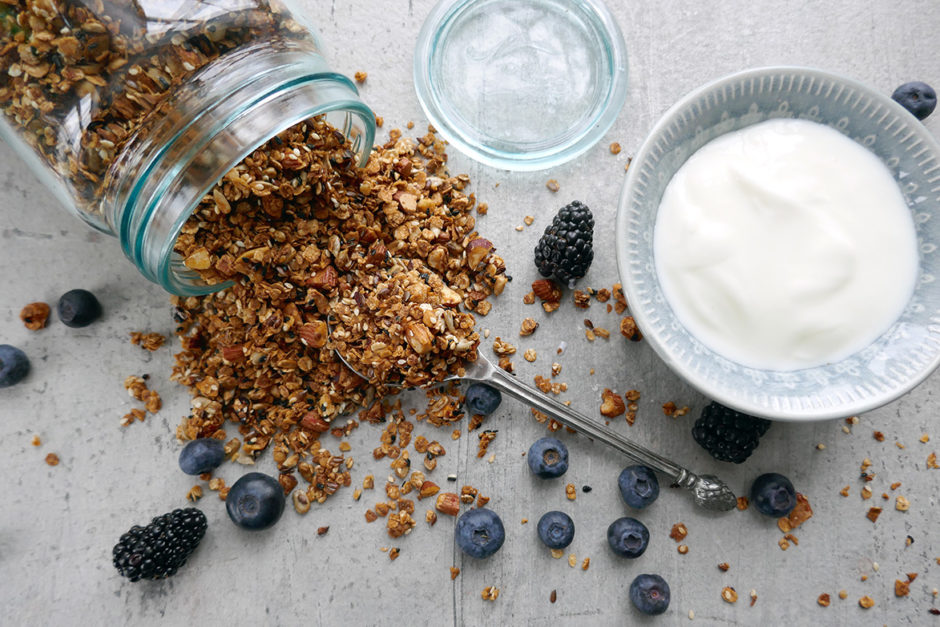 This is one of the recipes featured in the #planetaryhealthchallenge. It is made by the Norwegian food blogger Cecilie from ceciliesmat.no and aligns with EAT-Lancet's Planetary Health Diet. To find similar recipes click here.
Serves: 10 portions
Time: approx. 1 hour  
Ingredients
250 g oatmeal
75 g almonds
75 g hazelnuts
4 tbsp flaxseed
4 tbsp sunflower seeds
2 tbsp white sesame seeds
2 tbsp black sesame seeds
2 tbsp rapeseed oil
5 tbsp liquid honey
1 tsp vanilla sugar
1 teaspoon salt
Instructions
1. Chop the nuts. You decide how finely chopped you want them.
2. Mix all the ingredients well.
3. Spread the mix over baking paper on a tray and insert it into a cold oven set to 150 degrees.
4. Stir the mixture every 10 minutes. The granola is done when the mixture is golden. Total baking time is approximately 30 minutes.
5. Take the tray out and let the mixture cool down before putting it in a sealed container.
Enjoy with yogurt or oat milk!