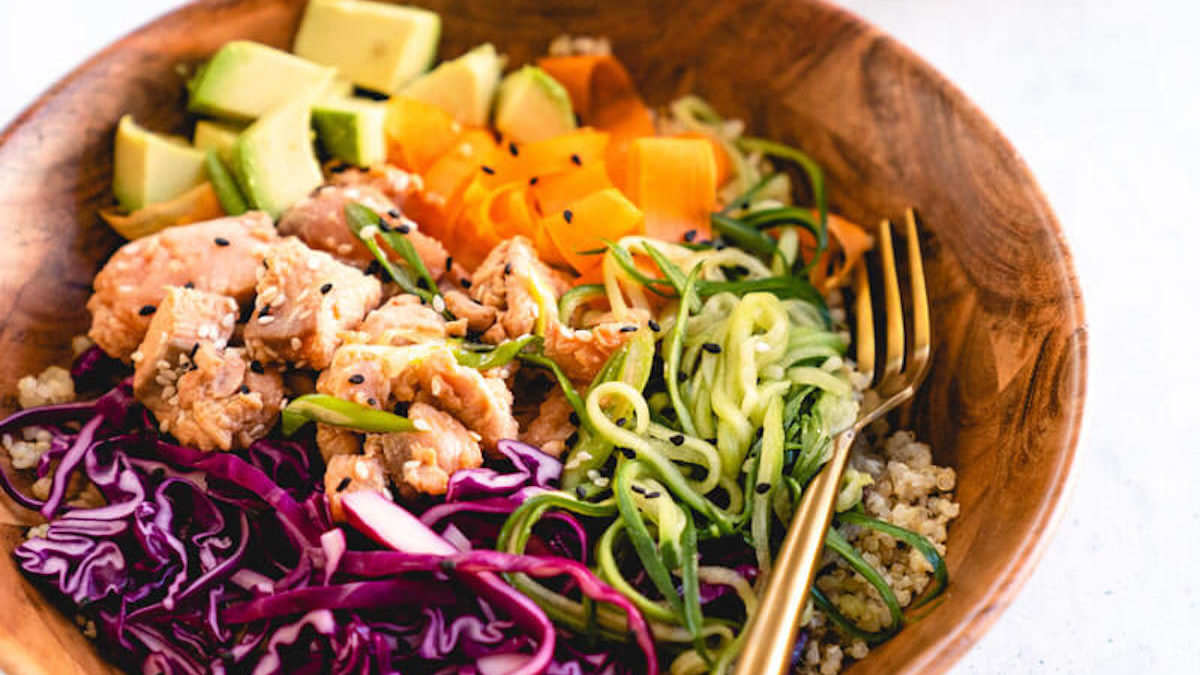 This vibrant recipe is brought to us by Sonja and Alex Overhiser from A Couple Cooks and aligns with the EAT-Lancet planetary health diet.
Sonja and Alex write, "Classic poke bowls traditionally feature raw ahi tuna, but we wanted to create a non-traditional spin on it to feature salmon. Meet this delicious seared salmon poke bowl!"
Not a fan of salmon? No worries! Check out this great recipe from A Couple Cooks for an entirely plant-based poke bowl.
Reprinted with permission from Sonja and Alex Overhiser, ACoupleCooks.com
Prep time: 29 minutes
Cook time: 1 minute
Serves 4
Ingredients
1 1/2 cup

s dry rice or quinoa

4

medium fillets wild-caught salmon*

5 1/2 tablespoon

s soy sauce or tamari, divided

1 tablespoon

toasted sesame oil, divided

1 teaspoon

sriracha

1/4

medium red cabbage (

2 cup

s shredded)

1

large English cucumber (

3 cup

s shredded)

3

medium carrots

1

avocado

3

green onions

2 1/2 tablespoon

s rice vinegar

1/2 teaspoon

sesame seeds, plus more for garnish

1 tablespoon coconut oil

Kosher salt
*Before you start, if the salmon is frozen, thaw the salmon according to the package instructions.
Instructions
Make the rice or quinoa using our How to Make Quinoa method, Instant Pot Quinoa, Instant Pot Brown Rice or Instant Pot White Rice.
With the salmon lying flat on a cutting board, run a sharp knife between the skin and the flesh to remove the skin. Cut the salmon into 1 inch squares and add it to a medium bowl. Note that thinner parts of the salmon may shred a bit (this is okay). Add 1/4 cup soy sauce, 1 teaspoon toasted sesame oil, and the sriracha to the salmon and stir gently. Allow to marinate while preparing the vegetables.
Thinly slice the cabbage (2 cups). Place it in a medium bowl and mix it together with 1/4 teaspoon kosher salt and 1 tablespoon rice vinegar.
Julienne the cucumber into long thin strips (3 cups; we used a handheld julienne peeler). Place in a medium bowl and mix with 1 1/2 tablespoons rice vinegar, 1 1/2 tablespoons soy sauce, and 1 teaspoon toasted sesame oil.
Peel the carrots into long ribbons using a vegetable peeler. Place in a medium bowl and mix with 1 teaspoon toasted sesame oil, 1/8 teaspoon kosher salt, and 1/2 teaspoon sesame seeds.
Dice the avocado (if using). Slice the green onions on the bias.
Heat the coconut oil in a large skillet over high heat. When hot, add the salmon and cook for about 30-45 seconds until just cooked. Immediately remove to a clean bowl and add the green onions, a sprinkle of sesame seeds, and 1 or 2 pinches of kosher salt.
To serve, scoop rice or quinoa into bowls, then top with the vegetables and salmon. If desired, garnish with additional sesame seeds.
Are you interested in getting more stories from EAT? We curate a monthly newsletter with news and updates, sent directly to your inbox.