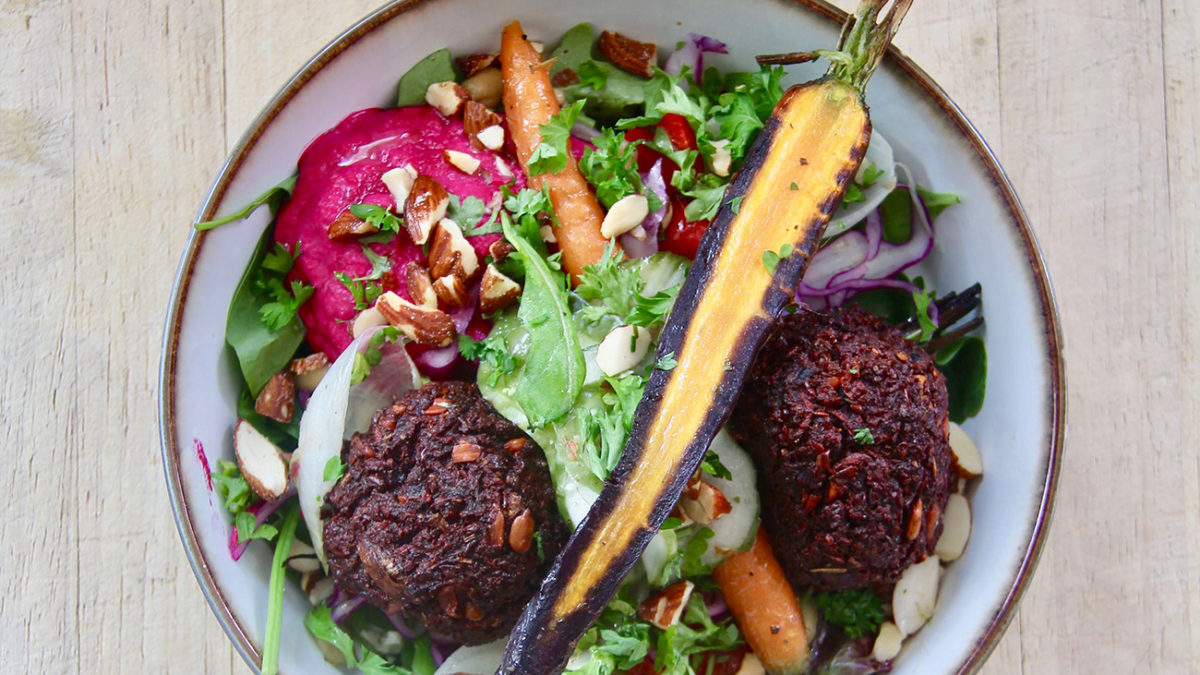 This recipe for beetballs with seasonal vegetables was created by chefs Fabian Axelsson and Fabian Mosesson, who run the show at Nordish Kitchen. The Gothenburg, Sweden-based restaurant cooks creative, sustainable food using local, organic produce — always putting greens in the spotlight — while also saving food from being wasted by supermarkets and farms. You can find their food at their digital food court or on Instagram.
Beetballs with seasonal vegetables, cabbage salad and beetroot hummus
Serves 4 people
For the beetballs
500 grams of beetroot
200 grams of boiled potato
100 grams of soaked yellow peas (you can also buy pre-cooked beans / lentils / peas)
3 Tablespoons toasted sunflower seeds
2 Tablespoons of coarse-grained mustard
A splash of cold pressed rapeseed oil
Salt and pepper
First, shred the beets and potato using a food processor, (or with a grater). Then, mash the soaked yellow peas and combine with the beets and potato. Next, simply stir in your toasted sunflower seeds and the mustard. If the batter feels too dry or thick, feel free to add a little bit of rapeseed oil until everything is smooth enough to roll into balls.
Season with salt and pepper to taste before shaping rolling the beetballs into the palms of your hands — roughly into the size of golf balls. Fry in a pan with oil (although we love to deep fry them for best result).
Oven roasted vegetables
700 g of seasonal vegetables and/or root crops, preferably with starchy carbohydrates
What we're looking for here is for the vegetables/root crops to get some colour, but to not  be overdone. We still want that resistance when chewing down! Time in the oven varies depending on choice of vegetable, size of vegetable and the kind of oven you're using.
Put your vegetables/root crops on a sheet pan. Dress with a little bit of rapeseed oil. Add some of your favourite herbs, salt and pepper to taste and roast in the oven at 225°C for 15-20 minutes.
If you have a thermometer you can check if your root vegetables are done by measuring their internal temperature to approximately 90°C.
Lentils

This step is simple. Boil your lentils until "Al dente". It usually goes much faster than stated on the package! Drain the lentils and mix them in with the roasted vegetables.
Beetroot hummus
250 grams soaked yellow peas/chickpeas (or use pre-boiled peas)
250 grams beetroot
½ dL apple cider vinegar
1 clove of garlic
½ dL of rapeseed or sunflower oil
½ dL water
salt and pepper
Use pre-cooked peas and beets, or cook them until soft. Using a blender, mix the peas, beetroot, oil, garlic and apple cider vinegar. If it's a little on the thick side, add a bit of oil or a splash of water until you have a good hummus texture.
Cabbage and onion salad
100 grams of raw shredded red cabbage
Half a red onion, thinly sliced
Half a lemon
A splash of rapeseed or olive oil
Basil or parsley, finely chopped
Salt
Mix the red cabbage, red onion and the chopped herbs. Drizzle some oil and lemon juice over everything in a bowl, and add salt to taste.
Suggested plating
Start with the roasted vegetables/lentils mix. Add a spoonful of beetroot hummus to your plate. Then, add your cabbage and onion salad. Place your deliciously fried beetballs on top of everything and lastly add something pickled and/or fruit. Finish off by sprinkling some toasted nuts et voilà! Enjoy!
Pro tip:
Beetballs are great and can be accompanied with a variety of seasonal vegetables depending on where you live.
Another great thing with these beetballs is that you can make extras and have them ready in your home to quickly create wonderful plates using whatever else you have in the fridge.
See more delicious recipes here
Are you interested in more stories from EAT? We curate a monthly newsletter with news and updates, sent directly to your inbox.