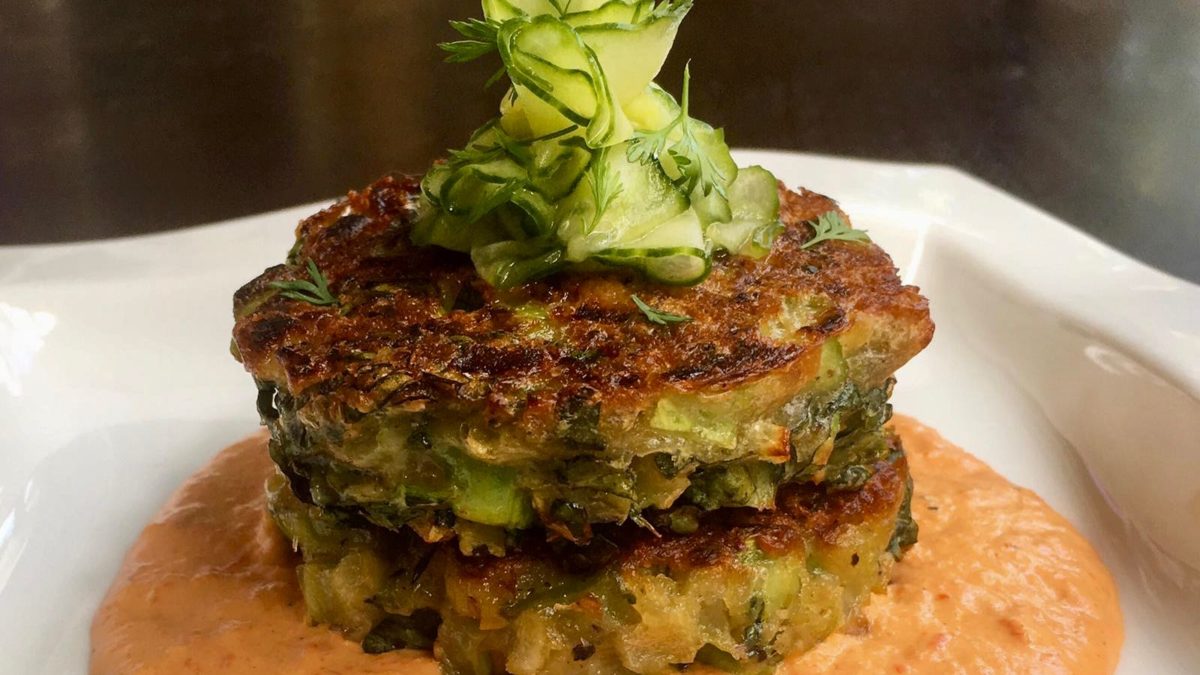 Broccoli stalk cakes are YUMMY! They're good for you too—the stalks are loaded with vitamin A and C and they have a good amount of minerals, fiber, and even protein.
This recipe is made by chef Alejandra Schrader, a Food TV personality, public speaker and a part of the Chefs Network for Global Chefs. Her cooking is focusing on sustainable ingredients, forgotten crops, zero food waste and ultimately aligns with EAT-Lancet's Planetary Health Diet.
Broccoli Stalk Cakes Ingredients
– 3 tbsp olive oil, divided
– 1/2 cup chopped onions
– 2 garlic cloves, minced
– 1 1/4 cup diced broccoli stalks
– 1 tbsp water
– 1/2 cup (loose) chiffonade lacinato kale
– 1 egg, beaten
– 1/4 cup tapioca flour
Instructions
Using a pan or skillet, heat 2 tbsp of oil over medium heat. Sauté onions for 2-3 minutes, until they're translucent and soft.
Add garlic and broccoli stalks to the pan and cook for about 6 minutes, stirring often. Add water to the pan and stir again. Cover with lid and turn off the heat.
Allow resting for at least 5 minutes. Once the mixture has cooled down, transfer to mixing bowl. Taste and season with salt and pepper.
Add beaten egg and tapioca flour and mix well using your clean hands or a large whisk. Add chiffonade kale and mix until all ingredients have incorporated.
Heat skillet again over medium heat then add 1 tbsp of oil. Divide mixture into 4 equal parts and place in the pan using a metal ring/mold, pressing down with the spatula to compact cakes (you may also carefully spoon them in.)
Sear each side about 4 minutes until golden brown and cooked through. Serve immediately. This recipe yields 2 servings.