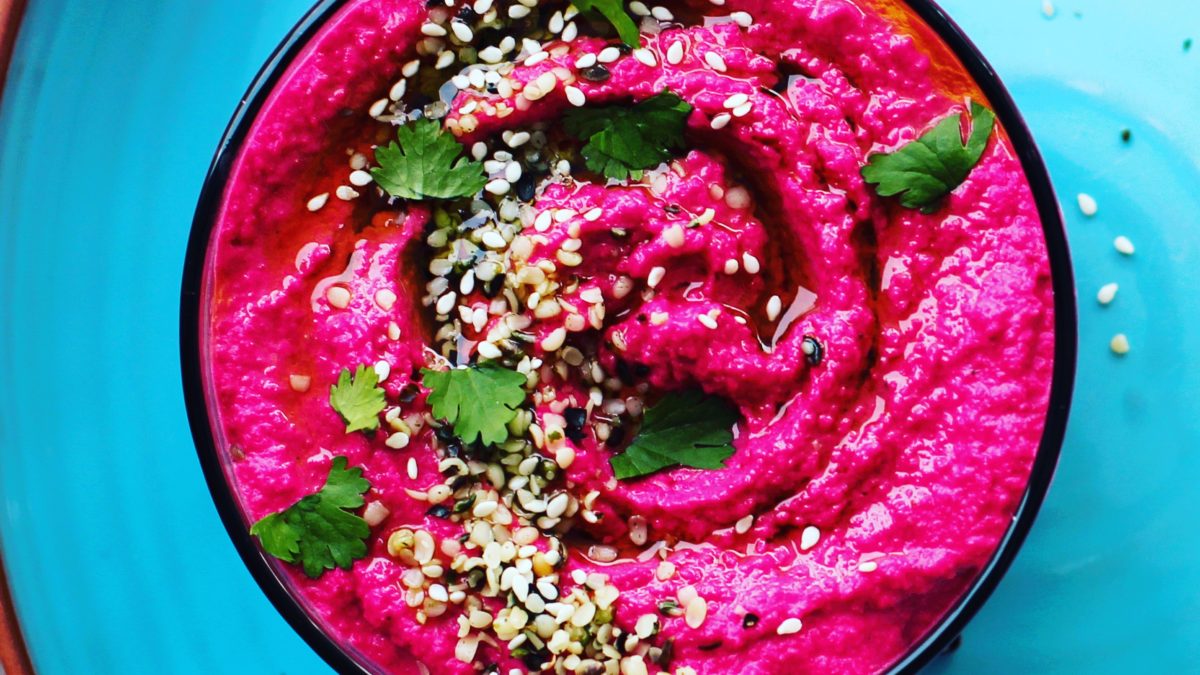 This is one of the recipes featured in the #planetaryhealthchallenge. It is made by the Norwegian food blogger Line Bruu from myesmak.no and aligns with EAT-Lancet's Planetary Health Diet.
Serves: 4 portions
Time: approx. 1 hour 
Ingredients
1 large beetroot
2-3 cloves of garlic
Coconut oil or light olive oil
350 g cooked chickpeas
2-3 tbsp light tahini
2 tbsp virgin extra virgin oil
2 tbsp lemon juice
1 tsp cumin seeds
1 tsp cilantro seeds
3 tbsp warm water
Chili flakes or cayenne pepper
Salt & pepper
Instructions
1. Turn the oven to 200 degrees (C). Slice the beetroot and garlic cloves (no need to peel), spread them over a tray and drizzle a bit of coconut or olive oil.
2. Roast them in the oven for an hour. Check in on them after 45 minutes. They are done when tender.
3. Let them cool down before removing the stem.
4. Fry cumin and cilantro seeds in a dry pan till you reach a nice smell. Then crush the seeds into powder.
5. Mix all the ingredients except water into a food processor and run until smooth. Add water while the machine is on until you reach the preferred texture. Taste with salt and pepper and potentially more lemon juice if needed.
6. Top the hummus with olive oil, hemp, sesame and pine seeds.
Enjoy with fresh vegetables, on pita bread or straight from the bowl!