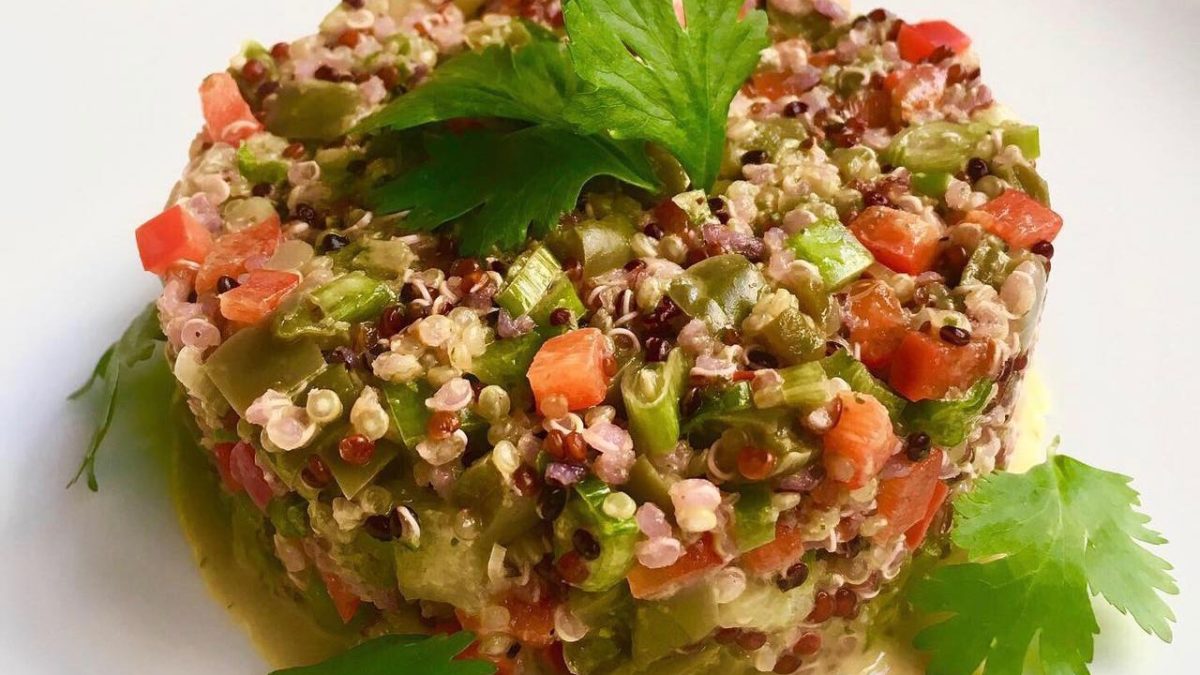 Fun Facts
The nopal (Opuntia Cactus) used in this recipe, is packed with nutrients (fiber, amino acids, vitamins, etc) and is also planet-friendly, meaning it is carrying a low impact on the environment.
The other key ingredient quinoa was called "The Mother Grain" by the Incas because of nutritional value; it contains proteins as well as fat, vitamins, and minerals. It's not a grain but a pseudo-cereal and very sustainable—it grows in diverse conditions and with minimal irrigation.
Ingredients
1 small red nopal fruit (aka prickly pear)
1/4 cup extra virgin olive oil
1/3 cup fresh lemon juice
1/4 cup chopped fresh cilantro stems
1/2  tsp coarse sea salt
1/4 tsp freshly ground pepper
1 cup diced, cooked nopales
1 cup cooked quinoa
½ cup diced tomatillos
½ cup minced red peppers
½ cup finely sliced scallions
1 tbsp minced jalapeños
Cilantro leaves for garnish
Instructions
1. To prepare the dressing: place nopal fruit, olive oil, lemon juice, cilantro stems, salt and pepper in a blender. Process until fully incorporated and strain through a mesh colander. Set aside.
2. Place cooked nopales, quinoa, tomatillos, red peppers, scallions, and jalapeños in a bowl and mix all ingredients. Add dressing and toss to coat. Taste and adjust seasoning, if necessary. Garnish with cilantro leaves.
3. To cook fresh nopales: In order to get 1 cup of diced, cooked nopales, you will need 3 medium fresh nopal cactus pads. Ideally, you'll get the ones with the spines already removed at your local market or farmer's market.
4. Fill a medium-sized pot with water (about ¾ full) and season with salt. Place over medium-high heat and bring to a boil.
5. Place nopal pads in boiling water and reduce heat to medium-low. Cover with lid and cook for about 20 minutes, until pads are tender. Nopales will change from bright green to opaque, olive color during this process.
6. Strain and rinse generously under water to wash away as much of the viscous liquid as possible, about 1 minute. Pat dry and dice.
(Optional: place diced nopales back on the mesh colander and rinse again; strain well)