Claudia Sántiz's Potato Tortitas
Tortitas de papa con salsa de pepita de calabaza
Potato tortitas with pumpkin seeds cream
Ingredients
4 potatoes
2 carrots
½ onion
1 broccoli
50 grams of pumpkin seeds
300 grams of Botil beans flowers
Mixed greens in season
1 glass of milk or veggie stock
Fresh coriander
Salt
Black pepper
Extra-virgin olive oil
Methods
Sauce:
Blend the milk or stock with the pumpkin seeds and some fresh coriander.
Tortitas:
1. Begin by steaming or boiling the potatoes until they are tender.
2. Finely chop the onion.
3. In a pan, sauté the chopped onion until it becomes translucent. Add it to the cooked potatoes along with the Botil bean flowers, salt and pepper, ensuring a thorough mix.
4. Shape the potato mixture into thick, circular patties to create the tortitas. Pan-fry these patties on both sides until they are golden brown.
To finish the dish:
1. Prepare the vegetables by chopping them, then sauté them in a pan with olive oil until they are tender and flavorful.
2. For the finishing touch, generously spread the pan-fried tortitas with the pumpkin seed cream. Serve them alongside the pan-fried vegetables and fresh mixed greens.
About Chef Claudia Albertina Ruiz Sántiz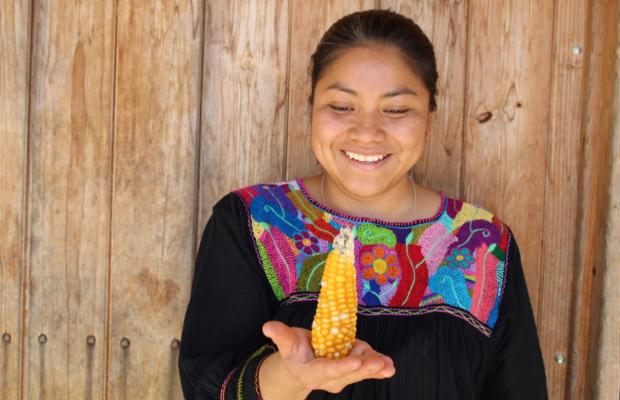 Claudia has her roots in the Tzotzil indigenous community in the southern Mexican state of Chiapas. Growing up in a society where indigenous girls often receive only six years of school and marry young, Claudia refused to follow the norms and took the rebellious decision to pursue her education in gastronomy. She was the first indigenous woman to graduate with a university degree from the School of Gastronomy at the Chiapas University of Sciences and Arts. Following her culinary education, she became the first indigenous woman to work at the world-renowned restaurant Pujol in Mexico City, owned by chef Enrique Olvera.
In 2016, Claudia opened her own restaurant, Kokonó, in San Cristóbal de las Casas. The restaurant serves as the space to spotlight traditional Chiapas dishes and promote indigenous culture. The name Kokonó comes from Claudia's mother tongue Tzotzil spoken by the indigenous community, referring to the Mexican herb epazote.
In 2021, Claudia was further recognized by The World's 50 Best as the 50 Next — one of the 50 young people around the world who are "shaping the future of gastronomy". She has also made her appearance in the Netflix series Iron Chef: Mexico.