Jessie Liu's Bento Box
Bento box of multigrain rice, stir-fried gai lan with pork, braised bamboo shoots with kelp knots, and miso-roasted pumpkin
🍚 Multigrain rice
Ingredients
180 grams of a versatile and fun mix of grains and legumes
What is used in the video: chickpeas, soybeans, sorghum, red lentils, oats, brown rice, and purple rice (which turns everything purple!)
Methods
1. Rinse and soak the multigrain mix in water for at least 2 hours before cooking. The rice-to-water ratio is about 1:1.3 (measured in volume). Use a small cup to measure.
2. Cook the rice for about 25 minutes in an electric rice cooker. It takes around 30 minutes if one steams it in a pot.
🥦 Stir-fried gai lan with pork
Ingredients
250 grams of gai lan (Chinese broccoli)
100 grams of pork belly
3 cloves of garlic
20 ml of rice wine
Salt
White pepper

Methods
1. Marinate the pork in some salt, white pepper, and rice wine.
2. Tear or cut the gai lan into smaller pieces.
3. Slice some garlic.
4. Stir-fry the garlic and chili in medium-hot oil first.
5. Add pork, turn up the heat, and cook until the pork starts to color.
6. Add gai lan into the pan, add a bit more rice wine (optional), then stir-fry quickly over high heat.
7. Taste and see if you need to add a bit of salt.

🎍 Braised bamboo shoots with kelp knots
Ingredients
150 grams of dried bamboo shoots
150 grams of kelp knots
10 grams of ginger
(Optional) 3 grams of chili
30 ml of soy sauce
Methods
1. Soak the dried bamboo shoots in water first for 20 minutes or longer, as they can taste quite intense.
2. Rinse the kelp knots.
3. Slice some pieces of ginger.
4. Slice some red chili (optional).
5. Warm a pot of oil.
6. Add ginger (and chili), and stir-fry for a bit until fragrant.
7. Add bamboo shoots, then add kelp knots.
8. Add soy sauce, and just enough water to cover everything.
9. Boil for 20-30 minutes or until soft.
🎃 Miso-roasted pumpkin
Ingredients
½ kabocha squash (or any small-sized pumpkin)
20 grams of white miso
10 grams of sesame seeds
Methods
1. Preheat the oven to 180°C.
2. Cut the pumpkin (with its skin on) in half and then into thin wedges.
3. Roast the pumpkin wedges for 10 minutes.
4. Mix the miso paste with the same amount of water until you get a thinner consistency.
5. Take out the pumpkins when the time is up, brush them with the miso mix, sprinkle on some sesame seeds, then toast them for another 5 minutes.
About Chef Jessie Liu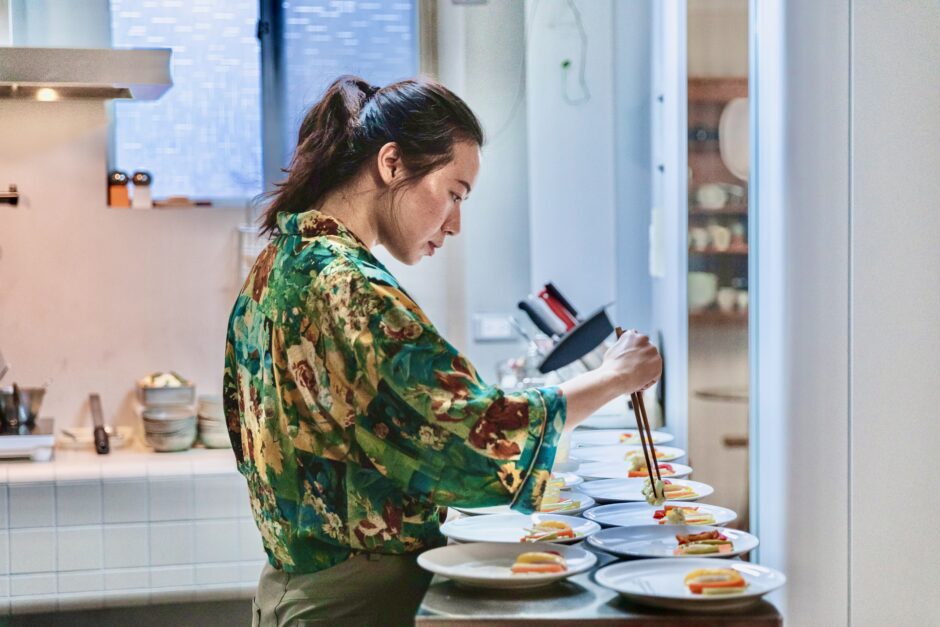 Jessie Liu, born and raised in Taipei, Taiwan, became a chef after her university studies and has worked as a chef for more than eight years. Since 2015, she has had the chance to live in various continents outside Taiwan in Eastern Asia, across Oceania, North America, and Europe.
As the inaugural winner of the World's 50 Best BBVA Scholarship in 2018, Jessie had the opportunity to learn from and work alongside renowned chefs Dominique Crenn and Andoni Luis Aduriz. This award unfolded her career path into the world of fine-dining restaurants.
Her attendance in MAD Academy's Environment and Sustainability program, followed by her position at Silo as a sous chef for a year, serves as another turning point in her professional career. These experiences have significantly reshaped her views, ignited more conscious decision-making, and made her start challenging business as usual and rethinking her role as a chef.
Built on her new perspective on the relationship between people and the planet, Jessie took the initiative to organize Climate Cafe Copenhagen outside of work. This weekly initiative opened a space for conversations on climate-related issues, and to raise awareness on the impacts of how we eat, cook, and live.