Nicola Kagoro's African Platter
African platter of samp, fried greens, butter beans, and roasted veg
🌽 Samp
Ingredients
1 ½ cups / 360 ml of samp
1 teaspoon of salt
5 tablespoons of peanut butter
Methods
1. Soak the samp in water overnight.
2. Boil until tender.
3. Reduce the heat to low. Add the peanut butter and a tablespoon of water to the pot and cover it with lid for 5 minutes.
4. Stir until well blended.
5. Cover for 10 minutes.
6. Add more water for a creamier texture.
Can be served hot or cold.
🥬 Fried greens
Ingredients
8 tablespoons of oil
2 garlic cloves, thinly sliced
500 grams of fresh greens, shredded and hard stalks removed
Methods
1. Heat the oil in a large frying pan or wok over medium-high heat.
2. Add garlic, fry for 2 minutes until fragrant, then add the greens.
3. Stir-fry for 8 minutes until the greens are wilted and tender.
🫘 Butter beans
Ingredients
5 tablespoons of oil
1 large onion, diced
1 large carrot, diced
2 large red pepper, diced
4 garlic cloves, finely chopped
1 cup / 240 ml of water
400 grams of canned butter beans, rinsed and drained
500 grams of chopped tomatoes
(Optional) 1 tablespoon of tomato paste
Methods
1. Heat the oil in a large pot with a lid.
2. Saute the onion, carrot and red pepper for 3-5 minutes over medium heat until softened.
3. Stir in the garlic, and cook for 1 minute until mixed well.
4. Stir in the butter beans, water, tomatoes and tomato paste.
5. Bring to a simmer, cover the pan with a lid, and simmer on low-medium heat for 10 minutes.
6. Add seasoning to taste, and serve while warm.
🥕 Roasted veg (pick any veg of your preference)
Ingredients
1 medium broccoli
2 medium carrots, sliced
1 small yellow bell pepper, cubed
1 medium onion (red, brown or yellow)
1 teaspoon paprika
¼ teaspoon of garlic powder
½ teaspoon of parsley
½ teaspoon of thyme
¼ teaspoon of black pepper
Salt to taste
1 tablespoon of oil
Methods
1. Place a frying pan on medium heat.
2. When it's heated, add oil.
3. Add in the vegetables, paprika, garlic powder, thyme, black pepper, parsley, and salt.
4. Stir till everything is well combined, and then pan-fry vegetables on high heat for about 5-8 minutes until they are tender.
About Chef Nicola Kagoro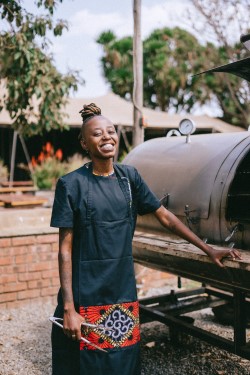 Nicola Kagoro, also known as Chef Cola, is a pioneering Zimbabwean award-winning vegan chef. Born in Harare, Chef Cola's cooking comprises elements of both African and western cuisines due to her upbringing in New York City.
Chef Cola herself has said that as an African, she was raised with the notion that 'meat equals wealth'. It was not until her studies in hospitality management and work in several restaurants in Cape Town, South Africa, that she properly began to look into African culinary traditions and history, and started challenging this view. This began her path towards the culinary frontlines, where she presents vegan food and lifestyle in Africa and advocates its great benefits – both nutritional and environmental.
Chef Cola founded the African Vegan on a Budget in 2016 to showcase African cuisine and culinary development, as well as to actively promote the reality that people can thrive on a healthy vegan and plant-based diet on a budget. One of Chef Cola's primary aims through her work with African Vegan on a Budget is to spread awareness of vegan culture across Africa and give people the tools and knowledge to actively integrate plant-based eating into their lifestyles.
Chef Cola is entrepreneurial and owns a diverse hospitality-related enterprise. She has also launched a line of customized African-inspired chef jackets made in Zimbabwe. In addition, "Dinner with Chef Cola" is another mobile dining concept to serve African-inspired dishes that present the beauty of plant-based African culture and cuisine. Chef Cola also worked with the International Anti-Poaching Foundation (IAPF) and Akashinga "Back to Black Roots"— a pioneering conservation program consisting entirely of female rangers to empower disadvantaged women in restoring and managing a network of wilderness areas as an alternative to trophy hunting.