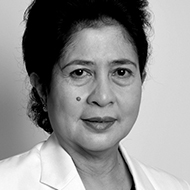 As part of her role, Professor Moeloek is also the Indonesian Sherpa for the Network of Global Leaders in various events dedicated to the initiatives to improve women's and children's heath in developing countries.
Professor Moeloek is Minister of Health of the Republic of Indonesia. She actively participates as a speaker, resource or moderator in a wide range of scientific meetings and workshops. She has authored or co-authored more than 150 scientific papers and five books. Professor Moeloek also leads several high-profile organisations in Indonesia. Foremost among these are her positions as General Chair of Dharma Wanita, the largest women's organisation in Indonesia whose members are female civil servants or partners of civil servants. She is also General Chair of the Indonesian Ophthalmologist Association, the Indonesian Cancer Foundation, and Chair of Medical Research at the Faculty of Medicine, University of Indonesia.
Professor Moeloek earned her medical degree in ophthalmology from the Faculty of Medicine at the University of Indonesia. After becoming a specialist consultant in ophthalmology in 1998, she devoted herself to pursuing a PhD in ophthalmology, and earned a cum laude degree in 2003. In 2007, she gained full professorship at the Faculty of Medicine at the University of Indonesia.