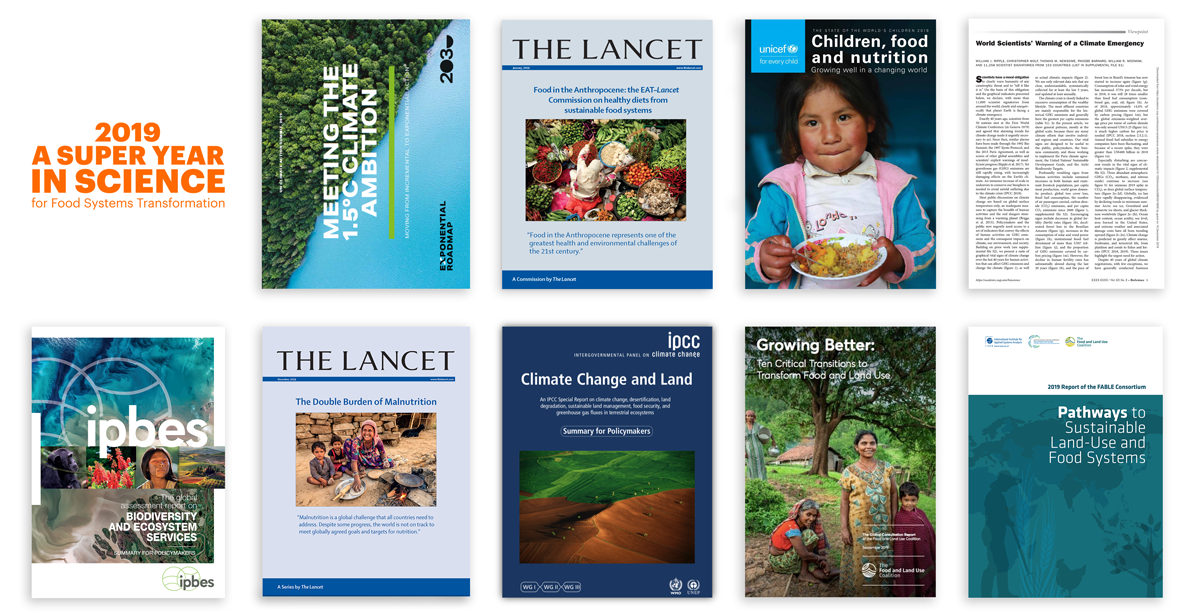 2020 is set to be the Super Year for Sustainable Development Goals and will convene world leaders across a host of critical summits on topics including biodiversity, nutrition, and more.
Yet, it's clear looking back that 2019 has without a doubt been a Super Year in Science for food systems transformation. In the past 12 months, several important publications have come out linking food, health and climate.
Below we feature 6 of the major reports and studies and 3 additional must-reads published this year — diving into the who, what, where, when, why, and how of food systems transformation — and draw attention to the common thread among them:
For people and for planet, we need to fix food.

Five common findings
Our food systems are harming us and our planet. Food is the single main contributor to both climate change and human premature death. When it comes to tackling these crises of climate and health, food is the missing link that can make or break progress.

Time is running out. The next decade will be decisive in limiting global warming to 1.5°C and in avoiding millions of preventable diet-related deaths. We cannot do everything at once, but something must be done – now.

We have the research. Mounting science on food, health, and climate is accumulating and all point in the same direction. There is sufficient evidence to start making changes. We must act, guided by the knowledge that our science is sound.

Collaboration across sectors is the only way forward. Our health and climate crises are symptoms of multiple determinants and will thus have to be remedied through concerted multidisciplinary action, using a systems approach. There is no silver bullet, but that doesn't mean we should all just stand by and do nothing.

For global impact, local actors offer critical leadership. While the problems we face are planetary, solutions supported by the best and latest evidence will have to be tailored to the human scale and adapted locally if we want to be successful in achieving positive results for everyone, everywhere.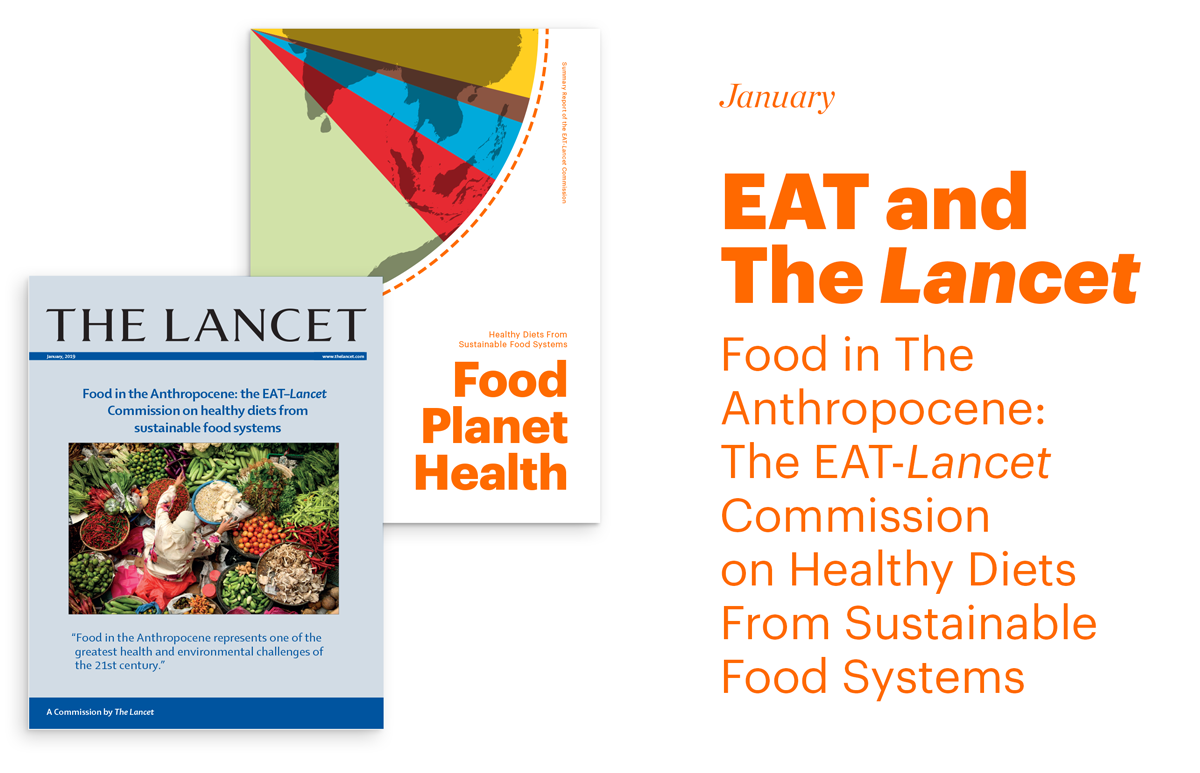 The EAT-Lancet Commission on healthy diets from sustainable food systems demonstrates that the way we currently feed the planet is harming both human and planetary health. Urgent global collaboration and commitment is needed for a Great Food Transformation. But the good news is it's possible – we can feed the projected population of 10 billion people in 2050 healthy diets from sustainable food systems.
Unhealthy diets are a leading cause of death and disease worldwide, and global food production is the single largest driver of environmental degradation. Increasing global consumption of plant-based foods and substantially reducing consumption of animal-source foods will reduce environmental effects and improve health outcomes.
Global agricultural production needs to shift from producing high quantities of food to producing quality food, focusing on a diverse range of nutritious foods from biodiversity-enhancing food production systems.
Sustainable intensification of food production is necessary to increase high-quality output: this includes reducing yield gaps on cropland, making radical improvements in the efficiency of fertilizer and water use, and redistributing global use of nitrogen and phosphorus.
Lands and oceans require strong and coordinated governance. To protect, preserve and restore natural ecosystems, and to prioritize biodiversity conservation, safeguarding resilience and productivity in food production will be imperative.
We need to cut food losses and waste across the food supply chain by at least 50% for the global food system to stay within its safe operating space. A combination of technological solutions and public policies will have to be implemented at every step, involving actors from every stage.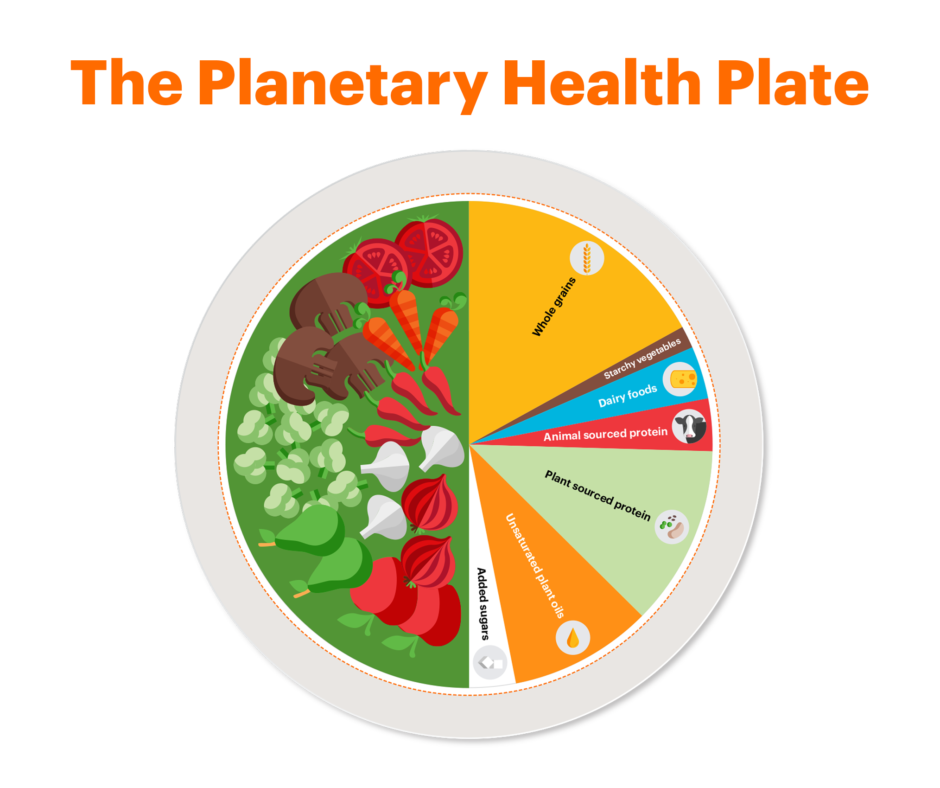 What do we need to fix? Food. The EAT-Lancet Commission report presented the Planetary Health Diet, the first attempt to set universal scientific targets for healthy diets and environmental sustainability. A planetary health plate consists by volume of approximately half a plate of vegetables and fruits; the other half, displayed by contribution to calories, should consist of primarily whole grains, plant protein sources, unsaturated plant oils, and (optionally) modest amounts of animal sources of protein. The authors emphasize that, within boundaries of food production, local interpretation and adaptation of the universally-applicable planetary health diet is necessary and should reflect the culture, geography and demography of the population and individuals.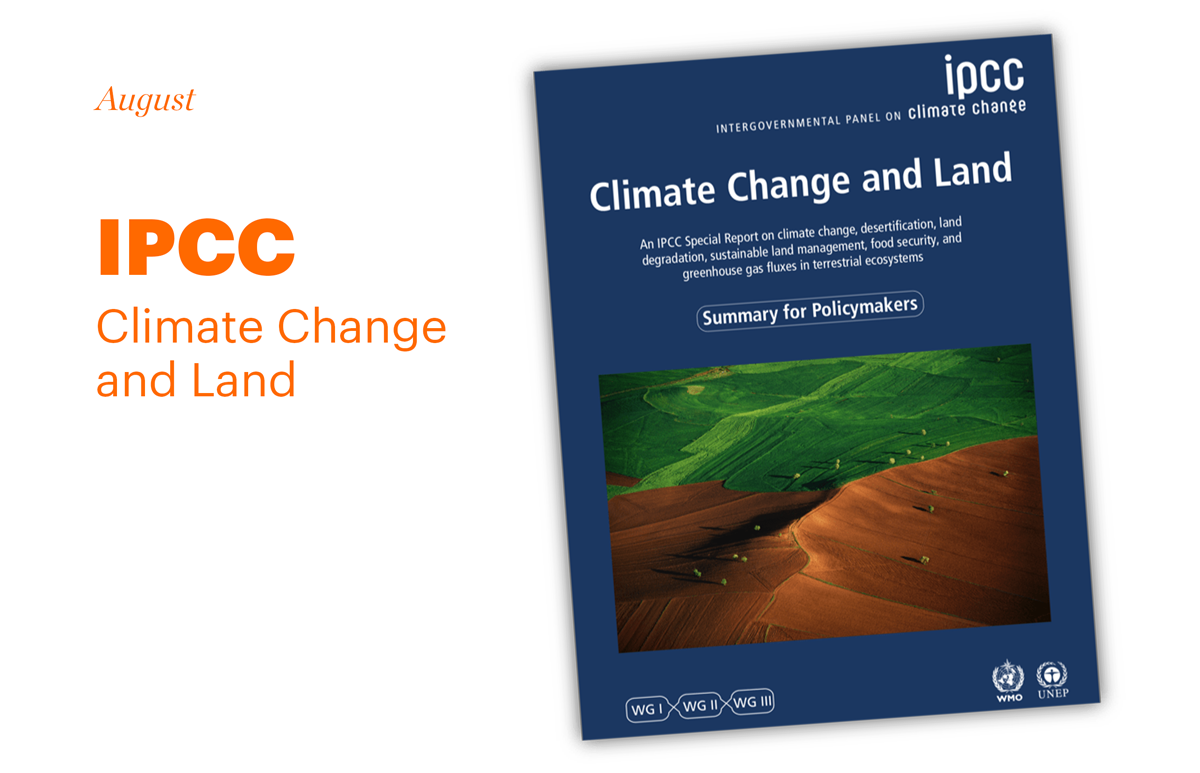 The United Nations Intergovernmental Panel on Climate Change (IPCC) releases a special report on Climate Change and Land. The keystone report explores how the way we use our land (including oceans!) contributes to climate change and how climate change affects our land.
Climate change is already impacting people and ecosystems. Urgent action to stop and reverse the over-exploitation of land and ocean resources is needed to buffer the negative impacts of climate change on ecosystems and society.
While climate change is causing major changes to land, changes to land are also causing climate change. As food demands continue to rise, every degree of warming will likely reduce crop yields, productivity, and livestock production globally.
Agriculture is a significant source of greenhouse gas (GHG) emissions, contributing with forestry and other land use to about 23% of man-made emissions. A global shift towards more plant-based diets and reducing food and agricultural waste are among the tactics with the largest potential for reducing these emissions.
Combining supply-side actions such as efficient production, transport, and processing with demand- side interventions such as modification of food choices, and reduction of food loss and waste, reduces GHG emissions and enhances food system resilience.
Tackling the global food systems would allow societies to achieve many Sustainable Development Goals (SDGs) that depend on land – coordinated action to address climate change can simultaneously improve land, food security and nutrition, and help to end hunger.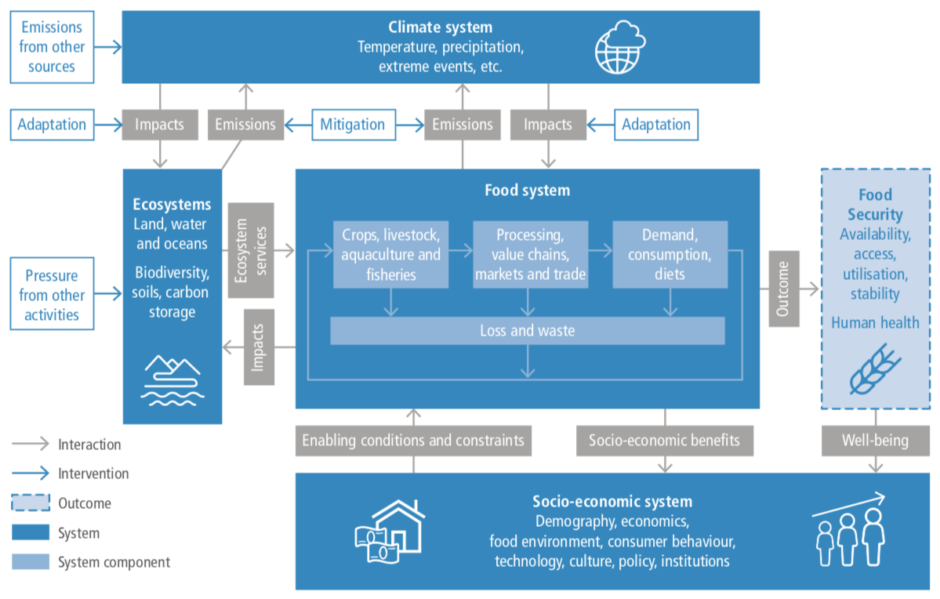 Why do we need to fix food? For a liveable future. Climate change increasingly threatens the food system and the food system is increasingly driving climate change. Both have direct impacts on food security, land, water and oceans ecosystems, and socio-economic systems. Each of the 17 SDGs is connected to this web of interconnected systems: to ensure sustainable development across systems, action must be taken at all levels.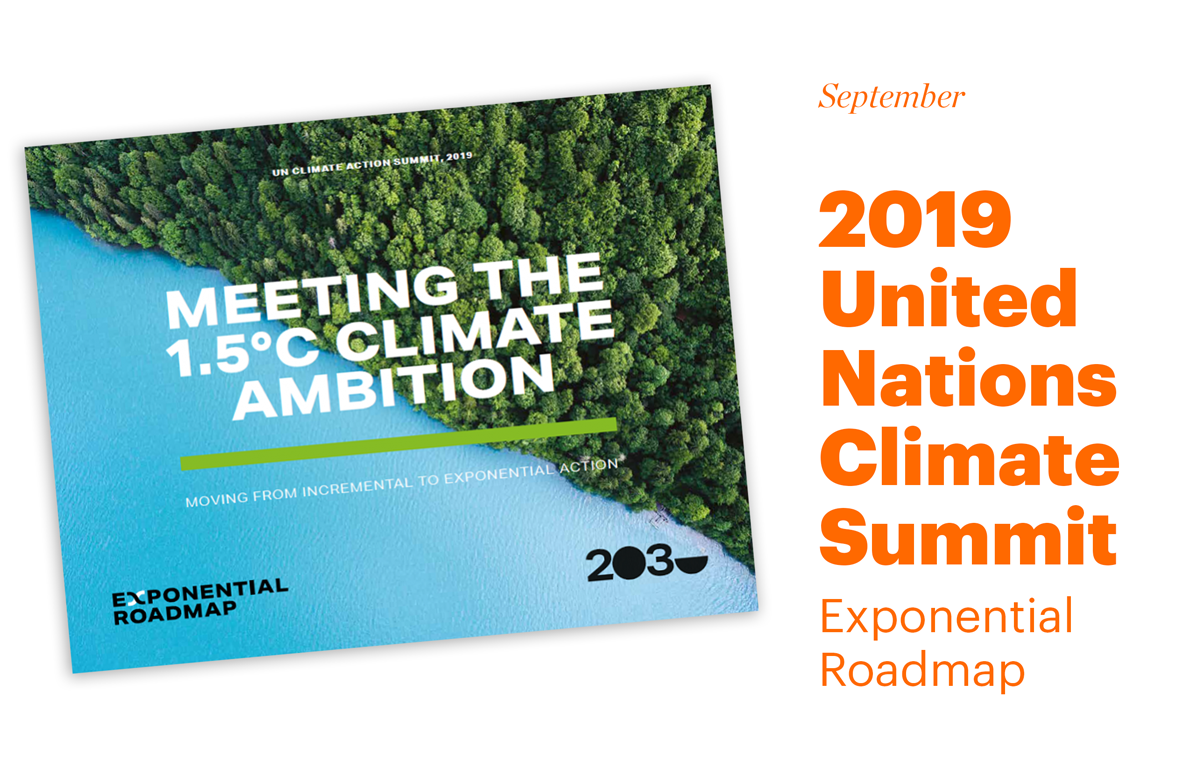 Ahead of the 2019 United Nations Climate Summit in New York City, the 2019 Exponential Roadmap is published alongside Meeting the 1.5°C Ambition. The reports focus on moving from incremental to exponential climate action in the next decade, presenting the case that holding global average temperature increase to 1.5°C above pre-industrial levels is critical.
Global food production is the single largest human pressure on Earth, threatening local ecosystems, driving a sixth mass extinction of species, and impacting the stability of the entire Earth system.
A new world view is a necessity to arrive at large-scale systems change. Immediate and ambitious targets for countries, cities and companies, backed up with actions, are essential to cut emissions 50% by 2030 or sooner.
A rapid shift towards plant-based diets in mainly Western industrialized countries and preventing a nutrition transition to Western diets, in addition to reduced food waste, are essential components of a systematic strategy to keep global warming well below 2°C.
Transformation will have to occur across many sectors if we want to halve emissions by 2030. Energy transformation, transport, industry, buildings, food consumption, and nature-based solutions are all necessary, engaging actors from public, private, and civil society realms.
Food is the dark horse in our fight against climate change. What we eat and how much is lost and wasted is the final battleground in determining whether or not we will achieve the Paris Agreement.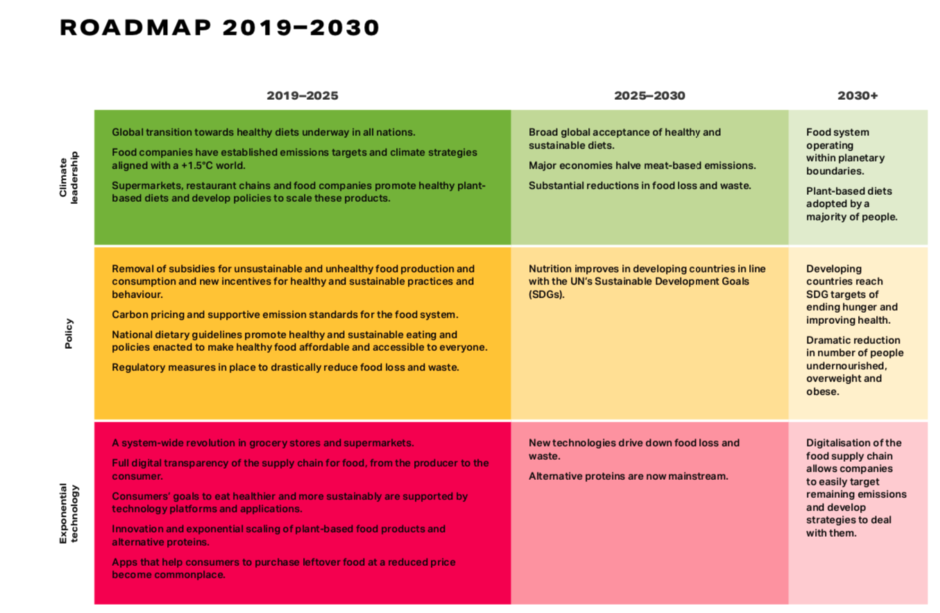 When should we start fixing food? Right now. If current trends are followed, greenhouse gas emissions from food consumption will increase from 5.6 to 6.8 Gt CO2e by 2030 and nearly double to 9.8 Gt CO2e by 2050. We can prevent this increase in emissions and reduce current food-related emissions to near the planetary boundary for food (5 Gt CO2e)2 with a 40% global shift to healthy plant-based diets by 2030 (75% by 2050) and reducing food loss and waste by 25% by 2030 (50% by 2050).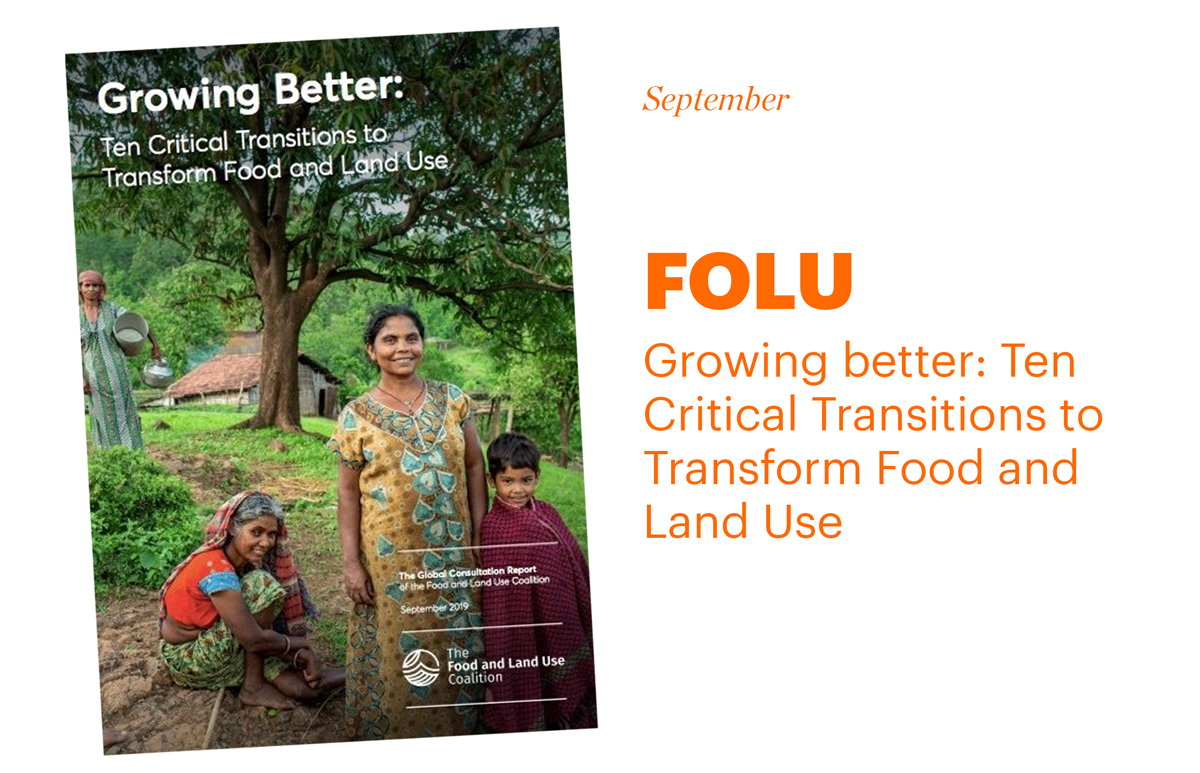 The Food and Land Use Coalition (FOLU) report lays out the scientific evidence and economic case that demonstrate that, by 2030, food and land use systems can help bring climate change under control, safeguard biological diversity, ensure healthier diets for all, drastically improve food security and create more inclusive rural economies.
Leaving the world's food and land use systems on their current trajectory would make catastrophes previously considered "tail end" risks increasingly likely, causing untold human misery.
Current food and land use systems are the main culprit of the sixth biodiversity extinction and also the leading cause of widespread malnutrition – if business is maintained as usual, half of the world's population will suffer from diet-related disease within the next 10 years.
By transforming food and land use systems, we can eliminate under-nutrition, halve the disease burden associated with over-nutrition, and increase food security by supplying enough food of the right quality and quantity, improving access for the poorest and most vulnerable.
Governments, business leaders, private investors, intergovernmental organizations, and civil society must imperatively unite to deliver policies, strategies, investments, agenda reforms, and social change that together will drive the 10 critical transitions proposed in the report to transform food and land use.
Benefits to be achieved from the transitions include becoming net-neutral, halting biodiversity loss, restoring ocean fish stocks, and bringing about an 80 percent reduction in air pollution caused by food and land use systems.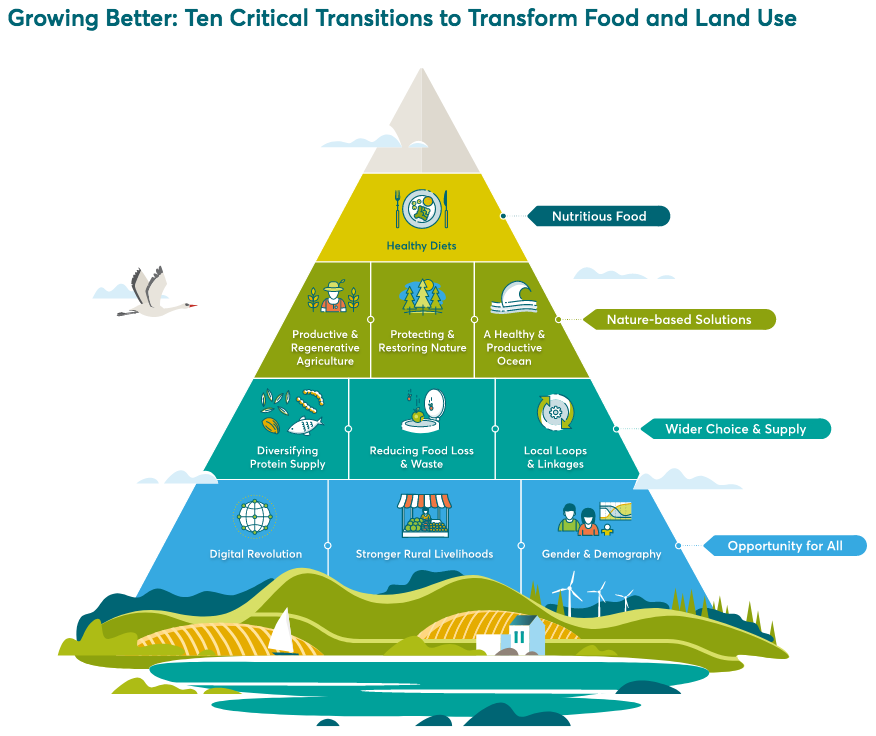 Who can fix food? Everyone. The report presents its agenda as a pyramid, with nutritious food at its apex. This is because the consumption patterns of more than nine billion people – what they choose to eat and how they make (or are influenced to make) those choices – are the critical factors shaping how food and land use systems evolve. Empowering consumers to make better-informed decisions and pursue a transition to diets that are healthier for them and for the planet ignites the whole reform agenda.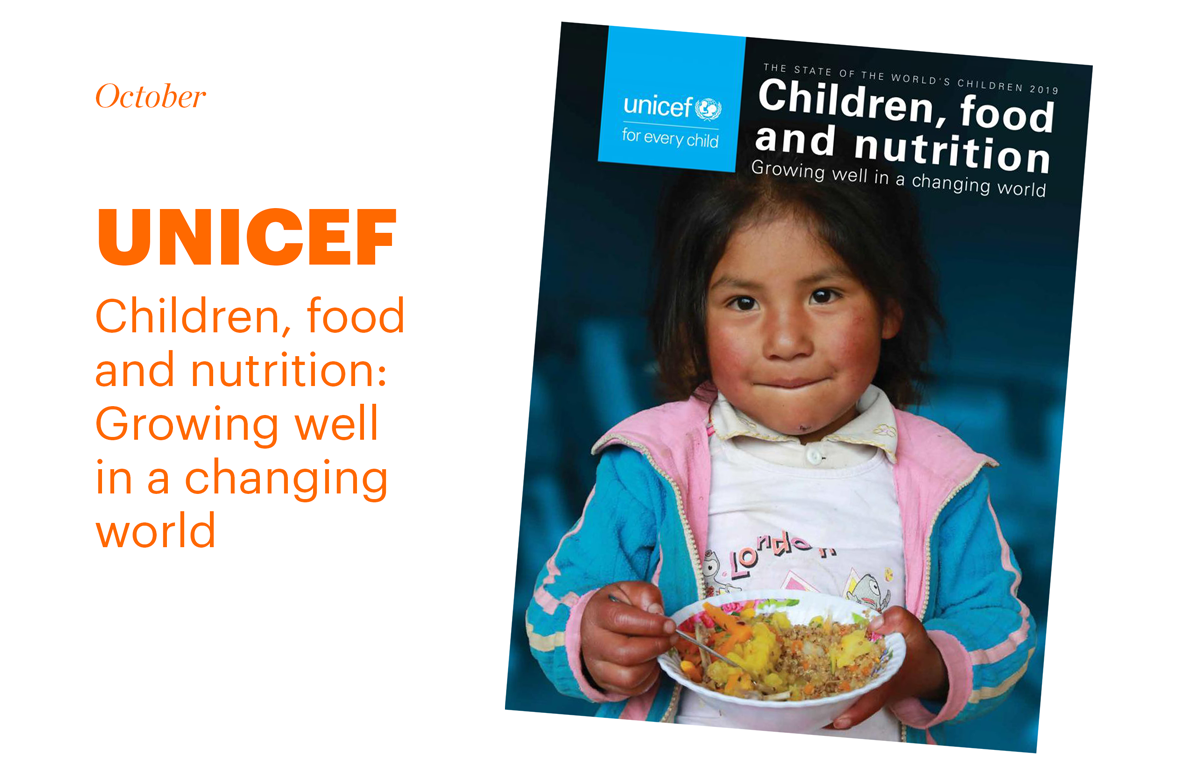 UNICEF's flagship State of the World's Children 2019 report explores the issue of children, food and nutrition for the first time in last 20 years. The evolving nature of global child malnutrition demands a systems approach that acknowledges the central role and responsibility of the global food system, working together across other key systems to provide better diets for children.
Without improvements to today's dietary patterns and food production, children, their families and future generations are likely to face greater risk of food insecurity and malnutrition brought on by climate shocks and environmental degradation.
At least 1 in 3 children under 5 is undernourished or overweight and 1 in 2 suffers from hidden hunger, undermining the capacity of millions of children to grow and develop to their full potential. At the center of this challenge is a broken food system that fails to provide children with the diets they need to grow healthy.
Improving children's nutrition requires food systems to deliver nutritious, safe, affordable and sustainable diets for all children. The triple burden of malnutrition – undernutrition, hidden hunger and overweight – threatens the survival, growth and development of children, young people, economies and nations.
Globalization, urbanization, inequities, humanitarian crises and climate shocks are driving unprecedented negative changes in the nutrition situation of children around the world, and children disproportionately suffer the impacts of climate change and environment degradation.
Investing in nutrition for children and young people is a cornerstone investment if the world is to achieve the Sustainable Development Goals by 2030.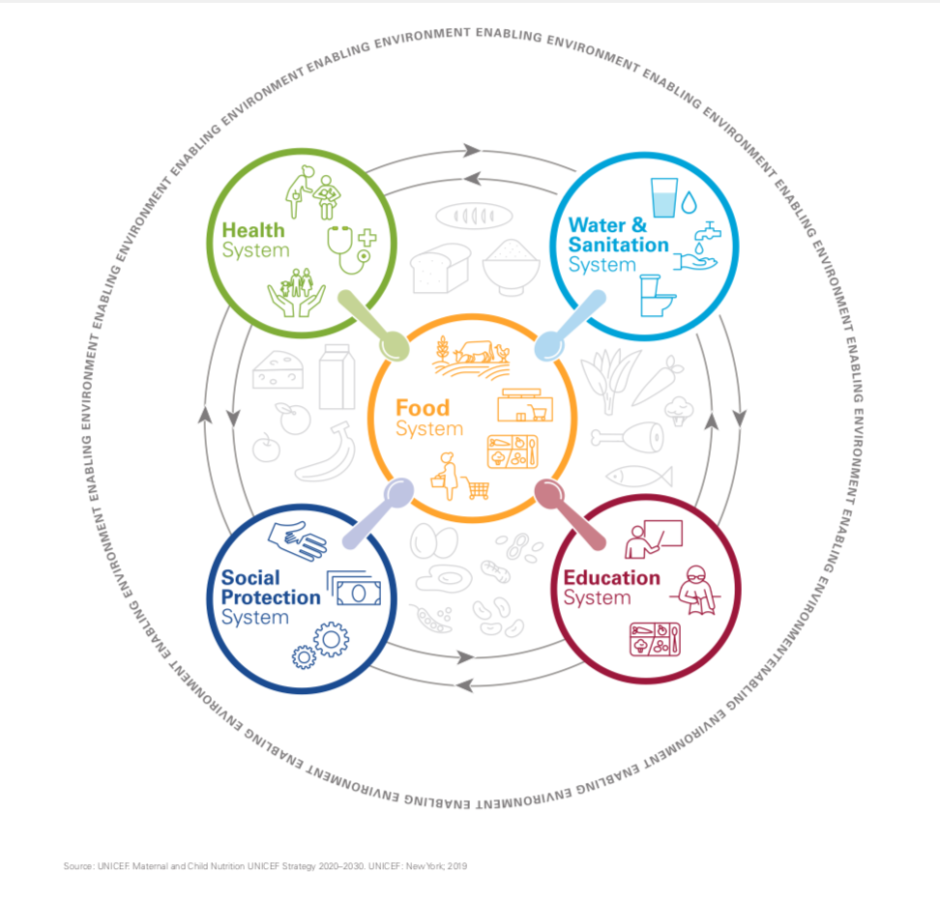 Where can we fix food? Across systems. UNICEF's State of the World's Children 2019 report echoes proposes multiple responses to a multifaceted challenge, and presents a systems approach to nutrition that combines action at the health, water and sanitation, education, and social protection systems — with the food system at the center of its hub.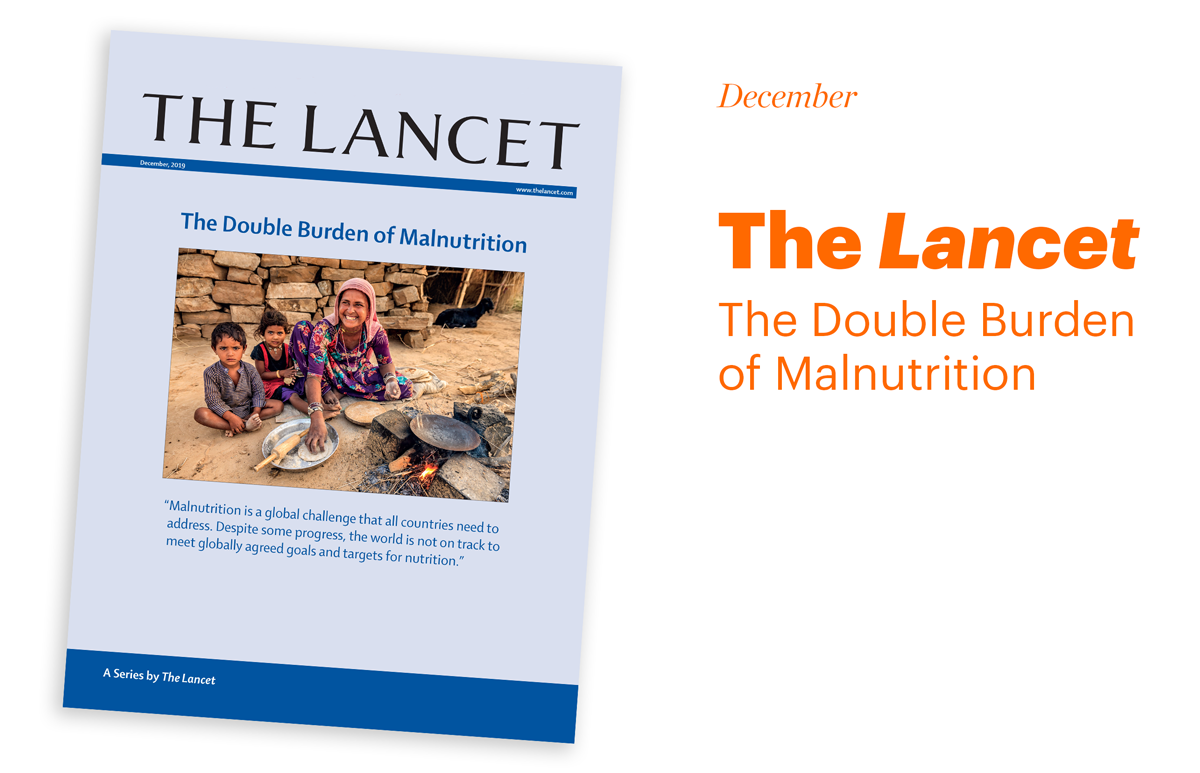 The Lancet Series on the Double Burden of Malnutrition tackles the issue of failing food systems and their globally devastating impact on human health. The World Health Organization report represents a new nutrition manifesto, calling for a better nutrition reality for people everywhere.
Malnutrition is a global challenge that all countries need to address. Despite progress, the world is not on track to meet globally agreed nutrition-related SDGs or UN Decade of Action on Nutrition targets.
Current food systems are driving diet-related diseases in two directions, contributing to a coexistence of undernutrition and overweight and obesity, and resulting in varying overlapping forms of malnutrition everywhere. Suboptimal diets are responsible for one in five (22%) adult deaths globally.
Major shifts in the global food system that have resulted in an increase in consumption of ultra-processed foods have been identified as common system drivers of undernutrition, overweight and obesity, and climate change altogether.
Strategies to reduce the double burden of over- and undernutrition include agricultural measures that promote diversity in food production and consumption, support the growing demand for sustainable and nutritious food in urban areas, and refocus production toward various crops of fruits, vegetables, nuts, legumes, and whole grains.
Meaningful change will require action across food systems — from production and processing, through trade and distribution, pricing, marketing, and labelling, to consumption and waste — driven from the bottom up by communities, cities, regions, and nations.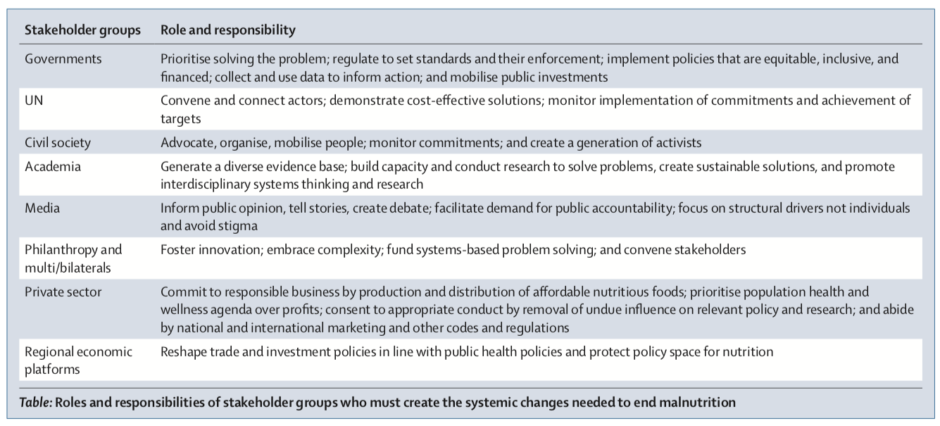 How can we fix food? Together. The report calls for silos to be broken down. New stakeholders need to join existing ones to power a food system revolution. These include: advocates for planetary health, faith-based leaders, innovators and investors financing fair and green companies, city mayors, farmers, small and medium enterprises, consumer associations, and youth of all ages – everyone has a role.
Bonus: 3 Must-Reads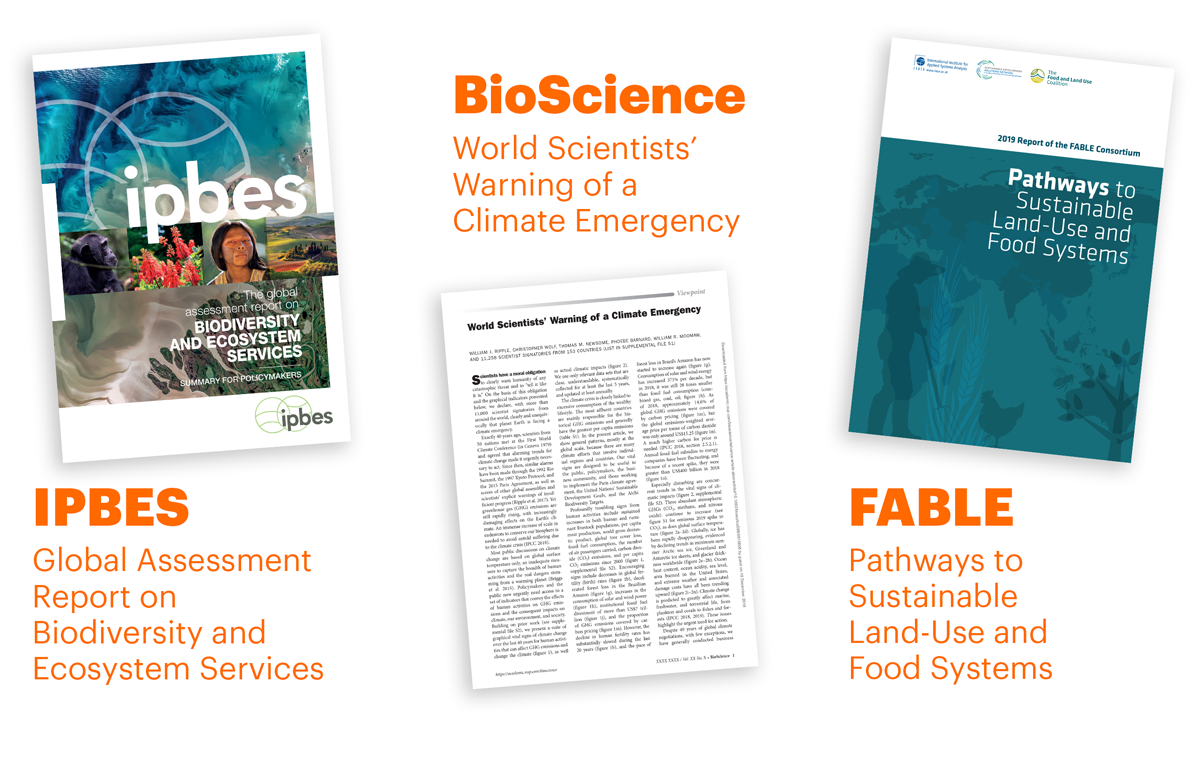 Nature is in danger.
The Intergovernmental Science-Policy Platform on Biodiversity and Ecosystem Services (IPBES)'s global assessment report on biodiversity and ecosystem services elevates biodiversity loss as being on par with the climate crisis. The Center for BioDiversity COP scheduled for November 2020 will reset the biodiversity framework.This report spotlights the urgency of that work. Look out for IPBES' first Nexus report on Biodiversity, Food, Health and Water whose work will start in 2020.
Our house is on fire.
More than 11,000 scientists from around the world declare "clearly and unequivocally that planet Earth is facing a climate emergency." Flagging that food accounts for between 20-80% of global impact on environment, from climate to water quality, land, and biodiversity loss, the report also flags that food and nature are two of the six critical domains for action outlined in the  World Scientists' Warning of a Climate Emergency for bending environmental curves.
Local solutions exist.
The Food, Agriculture, Biodiversity, Land-Use and Energy (FABLE) Consortium puts feasibility first by presenting preliminary pathways to sustainable land-use and food systems for 18 different countries plus the EU countries — showcasing globally coherent national pathways to healthy diets and environmental sustainability. As local leadership and localized translations of the science are essential to drive the change we need, this report offers great insights to a few specific cases and is a strong model to replicate with other local leaders. While the EAT-Lancet provides universal science boundaries for health and sustainability, the FABLE roadmaps signals the diversity of context specific and nationally determined pathways to these targets.
Going forward: what's next for 2020?
The research has spoken. Business as usual is no longer acceptable. A drastic overhaul of our global food systems and exponential action is urgently needed – and we now have the evidence-based tools to get started.
The science of 2019 has paved the path for the 2020 Super Year with clear courses for action. When it comes to fixing food for health and climate, one thing is clear: the next decade will be defining.
Are you interested in more stories from EAT? We curate a monthly newsletter with news and updates, sent directly to your inbox. Sign up to our newsletter here.