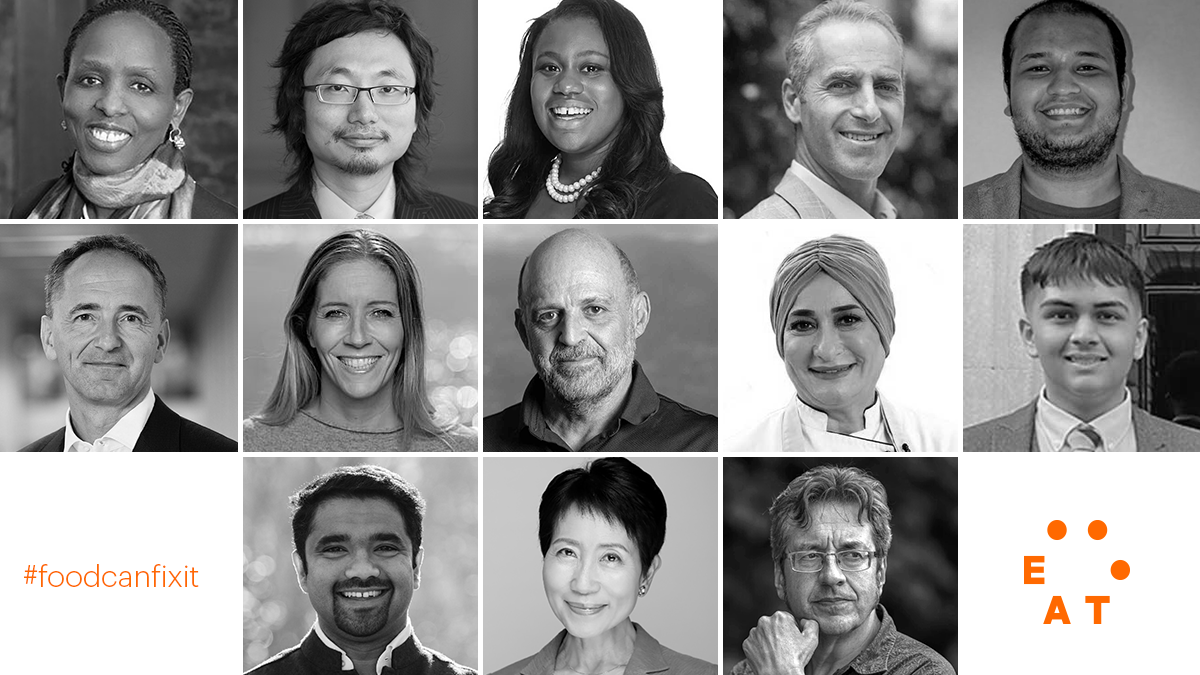 Thirteen new faces were present during the semi-annual advisory board meeting that took place online and at the EAT office in Oslo, Norway, on December 6th 2022.
Key parts of the board meeting included Her Excellency Mariam bint Mohammed Saeed Hareb Almheiri (UAE) and Carlos Manuel Rodriguez (Global Environment Facility) presenting strategic perspectives towards COP28 and beyond, as well as Dr. Fabrice DeClerck (EAT) and Prof. Johan Rockström (Potsdam Institute for Climate Impact Research) talking about the ongoing work of the Food System Economics Commission and EAT-Lancet 2.0.
The new additions to the EAT advisory board are:
Dr. Agnes Kalibata: As President of AGRA, Dr. Kalibata is a key figure in increasing the income and improving food security for farming households in 11 African countries. Prior to assuming this position in 2014, she was Minister of Agriculture and Animal Resources in Rwanda for six years. Dr. Kalibata was Special Envoy to of the UN Secretary-General for the 2021 Food Systems Summit and holds a doctorate in Entomology.
Carlos Manuel Rodriguez: Rodriguez is the CEO and Chairperson of the Global Environment Facility and a pioneer in the development of Payment for Ecosystem Services and strategies for forest restoration, ocean conservation, and decarbonization. During his three terms as Environment and Energy Minister of Costa Rica, the country doubled the size of its forests and made its electric sector fully renewable.
Dr. Dariush Mozaffarian: Dr. Mozaffarian is a cardiologist, Special Advisor to the Provost, Dean for Policy, and Jean Mayer Professor at the Tufts Friedman School of Nutrition Science and Policy; and Professor of Medicine at Tufts School of Medicine. He has authored more than 500 scientific publications on dietary priorities for obesity, diabetes, and cardiovascular diseases, and on evidence-based policy approaches and innovations to reduce diet-related diseases in the US and globally.
Dev Sharma: Dev Sharma is Youth MP for West Hampshire & Chair of Bite Back 2030, a youth-led movement campaigning for all young people to be given equal access to a good diet. Sharma recently spoke at the UN Food Systems Summit, the Global Obesity Summit in New York and switched on Leicester's Diwali Lights, the largest celebration of Diwali outside India.
Dhanush Dinesh: Dinesh is the Founder of Clim-Eat, a think and do tank to accelerate climate action in food systems. Prior to founding Clim-Eat, Dhanush led the cross-cutting Learning Platform on Partnerships and Capacity for Scaling Climate-Smart Agriculture of the CGIAR Research Program on Climate Change, Agriculture and Food Security (CCAFS).
George Monbiot: George Monbiot is an author, Guardian columnist and environmental activist. His best-selling books include Feral: Rewilding the Land, Sea and Human Life, Heat: How to Stop the Planet Burning, and Out of the Wreckage: A New Politics for an Age of Crisis. Monbiot won the Orwell Prize for Journalism in 2022 and his presentations have generated more than 100 million views on YouTube.
Jian Yi: Jian Yi is an independent filmmaker and food activist. In 2008 he founded the IFChina Original Studio, a citizen participatory media project, and he founded the Good Food Fund in 2017, which leads in promoting transforming China's food system transformation. He is a graduate of Communication University of China and the University of Notre Dame, where he won a distinguished alumni award in 2015.
Jim Hagemann Snabe: Jim Hagemann Snabe is Chairman of the Supervisory Board of Siemens AG and Member of the Board of C3 AI. He serves as a member of the Board of Trustees at the World Economic Forum and is Adjunct Professor at Copenhagen Business School. Snabe holds a master's degree in Operational Research from the University of Aarhus, Denmark.
Manal Alalem: Manal Alalem is an Egyptian TV Chef and a champion of Middle Eastern and Arab cuisine. She is famed for encouraging women's involvement in the culinary industry by leading specialized culinary courses for women as well as setting up the Manal Club – a network of 6,000 women from across the Arab world who take part in culinary festivals, shows and competitions.
Mary-Pat Hector: Mary-Pat Hector is a Program Strategist at Rise, Inc, an organization led by more than 40,000 students and supporters from colleges and universities across the USA. She is also the Georgia Black Youth Vote coordinator. Hector speaks at high schools, colleges, conferences, women's events, and crisis shelters across the USA to give young people their own road map for changing the world.
Maycon Cesar: Maycon Cesar is an Engineering Psychology major at Tufts University. He has received young leader and technologist awards from multiple organizations, including the U.S Department of State, Latin American Leadership Academy, Bayer, Nuffield International, Facebook, ONU, and UNESCO.
Dr. Naoko Ishii: Dr. Naoko Ishii is a professor and executive vice president at the University of Tokyo, where she is also the inaugural director for the Center for Global Commons, whose mission is to catalyze systems change so that humans can achieve sustainable development within planetary boundaries. Prior to joining the university, she served the Global Environment Facility as CEO and Chairperson from 2012 to 2020 and as Deputy Vice Minister of Finance in Japan in 2010-2012.
Nina Jensen: Nina Jensen is the CEO of REV Ocean, currently building the world's largest research and expedition vessel, "REV", aiming to improve understanding and search for more sustainable and environmentally responsible solutions for the world's oceans. She started this position in 2018 after 15 years in WWF-Norway, having been CEO since 2012.
See here for a complete list and more in-depth bios of the EAT advisory board members.