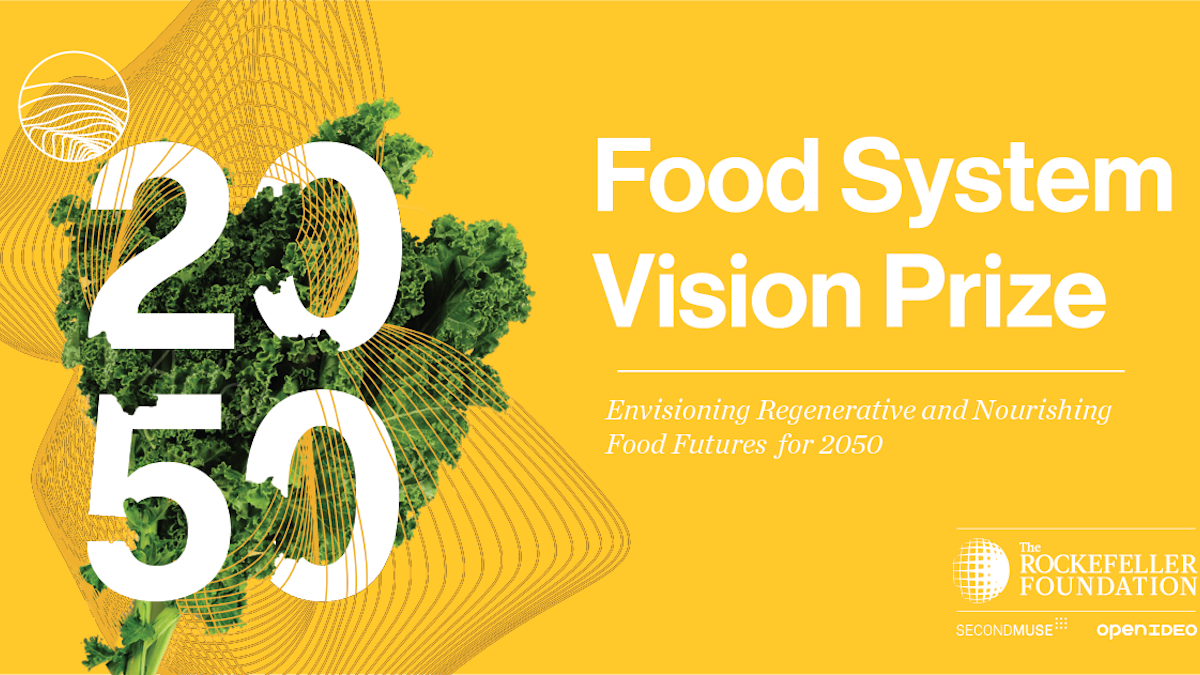 The Food System Vision Prize 2050
Working in a culture of collaboration – rallying industry, policy, academia, and society to act as one as the designers of future food systems – the Rockefeller Foundation, SecondMuse, and OpenIDEO have introduced the Food System Vision Prize.
Global food systems unite two of the world's biggest humanitarian challenges: malnutrition and climate change. However, all around the globe, unsustainable food systems are failing to provide adequate nourishment to people.
The Prize invites organizations and other entities (called Visionaries) to imagine a hopeful, inspiring Vision for their chosen Place — town, state/province, region, bioregion, watershed, or country — using a systems approach.
What are we focusing on for the future?
The Food System Vision Prize is an opportunity to light the way for populations across the globe to realize a more promising, nourishing, and healthy future, successful Food System.
Together, we're seeking answers to the question: "How might we envision regenerative and nourishing food futures for 2050?"
The program aims to develop Visions that reflect the views of different stakeholders and that address the following six themes: environment, diets, economics, culture, technology, and policy. Successful Visions will illuminate the difference among food systems as they exist today and as they could be in the year 2050 "if we get it right".
Applicants will contend for acceleration support to bring their Visions to life, as well as $2M in Prizes. When we come together, we can deliver sustainable, nourishing diets for people and the planet by 2050.
Get involved, make a change
You can submit a Vision, edit it until the deadlines (see more below), and see what others are sharing on the open platform.
Read here to find out how you can participate in the Food System Vision Prize.
Sign up here to receive email updates.
The Rockefeller Foundation, in partnership with collaborative innovation agencies SecondMuse and OpenIDEO, plans to harness the power of energized actors to accelerate and amplify the conversation.
EAT serves as a Strategic Network Partner for the Prize.