Side Events at EAT Stockholm Food Forum 2019
Side events are an opportunity for partners to showcase their work, ideas, and innovations.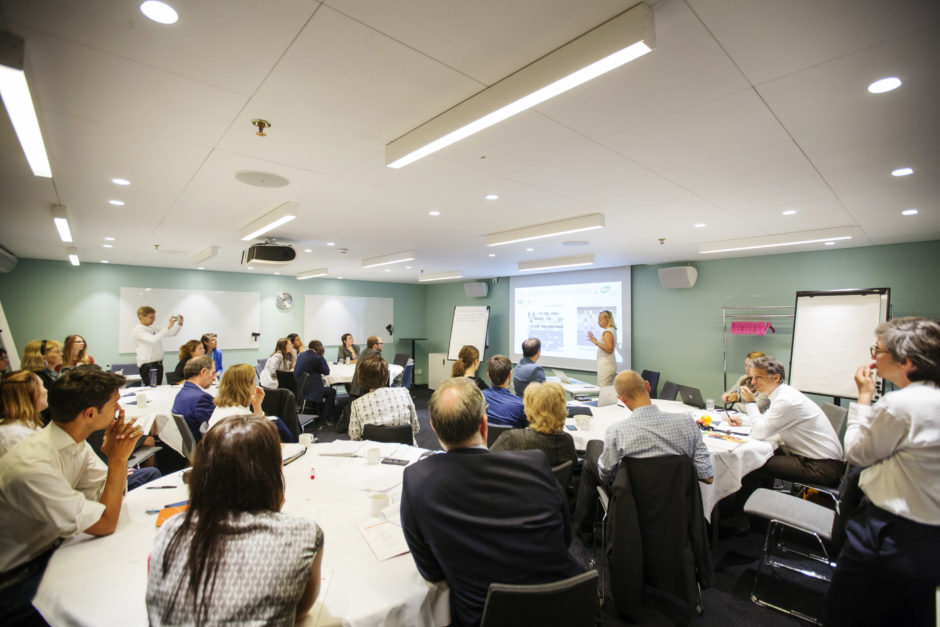 The side events allow experts to consult a diverse group of stakeholders on complex issues related to food systems transformation and are a place for empowering partners and community-building.
Please note that, while most side events are open for the public and therefore on a 'first come, first serve' basis, several others are by invitation only.
All side events take place at the Quality Hotel Globe, adjacent to Annexet. Please allow at least 5 minutes to walk from Annexet to the hotel.
Tuesday 11 June
9:30 am – 12:00 pm, Saturnus room, 3rd floor (Open Event)
Bioversity International
Putting biodiversity back into food – Managing risks in food systems using the Agrobiodiversity Index
Shrinking biodiversity narrows farmers' options to manage agricultural risks, and reduces our access to diverse diets. The event will discuss the role of biodiversity for sustainable, healthy and resilient food systems, and present the first Agrobiodiversity Index Report 2019: Risk and Resilience. This report includes country results from Australia, China, Ethiopia, India, Italy, Kenya, Nigeria, Peru, South Africa and USA, the first run of this new tool for decision-makers and investors to measure agrobiodiversity in food systems.
Line up:
Fabrice DeClerck, Science Director, EAT;
Juan Lucas Restrepo, Director General, Bioversity International and CEO of the Alliance with CIAT;
Dorothy Shaver, Global Sustainability Lead and Dietitian, Knorr/Unilever;
Leonard Mizzi, Head of Unit, Rural Development, Food Security, Nutrition, EU DEVCO;
Zhou Jinfeng, Secretary-General, China Biodiversity Conservation and Green Development Foundation
For further information, please contact Richard China (r.china@cgiar.org) and Chiara Villani (c.villani@cgiar.org)
9:00 am – 12:30 pm, Vintergatan room, 11th floor (Open Event)
Natural Resources Defense Council
Food Waste and Food Production: The Intersection of Climate Change, Healthy Diets, and the Economy
This event will bring together a diverse mix of stakeholders including policymakers, thought leaders, institutional and academic partners to discuss the environmental, social, and economic impacts and opportunities around food waste, while reflecting on broader interconnections across the food system. Through a panel and workshops, attendees will gain a better understanding of the intersection between greenhouse gas reduction through food systems solutions: from changing the way food is produced, consumed and disposed to building more sustainable and resilient communities. They will also learn about the Food Matters project, supported by The Rockefeller Foundation, through which NRDC partners with US cities to achieve a 15 percent reduction in food waste within five years through a comprehensive set of policies and programs. Invited speakers include senior leadership from The Rockefeller Foundation, James Beard Foundation, WRAP UK, and Food Tank.
For further information, please contact Elizabeth Balkan (ebalkan@nrdc.org)
9:00 am – 12:30 pm, Venus room, 3rd floor (Open Event)
Foresight4Food
Futures Thinking for Food System Transformation
Join us at the Foresight4Food Initiative workshop to explore how futures thinking can inspire and inform change.  Supported by preparatory work we will examine the landscape of food systems foresight and scenario analysis, and how this can be used across business, government, and communities to drive innovation and inform decisions?
For further information, please contact Jim Woodhill (jim.woodhill@ouce.ox.ac.uk)
8:30 am – 1:15 pm (RSVP below)
Global Alliance for Improved Nutrition (GAIN) & EAT 
Workshop on Investing in Nutritious, Sustainable Foods in Emerging Markets
Providing nearly ten billion people with nutritious foods within planetary boundaries by 2050 is a topic that is gaining importance on the global agenda, and one that must involve the collaboration of many actors. The Global Alliance for Improved Nutrition (GAIN) and the EAT are organizing a half-day workshop that will bring together a subset of vital actors around the area of financing for nutrition, with a focus on emerging markets. These include high-impact food entrepreneurs, key players in the investment community, private sector leaders, and policy actors from government, civil society and international organizations. This workshop at the EAT Stockholm Food Forum 2019 marks an important milestone in the roadmap towards reframing the dialogue around nutrition and raising the profile of nutritious, sustainable foods as an investment theme.
If you are interested in attending this side event, please contact Magali Roy (mroy@gainhealth.org)
1:30 – 2:30 pm & 2:40 – 3:40 pm, Saturnus room, 3rd floor (Open Event)
Ellen MacArthur Foundation
The circular economy: what it is and why it matters
Join this interactive session where two experts from the Ellen MacArthur Foundation will lead an exploration of the circular economy concept, from its origins and benefits, to how it is applied to different sectors of the economy, including Food.
For further information, please contact Marco Meloni (marco.meloni@ellenmacarthurfoundation.org)
1:30 – 3:00 pm, Vintergatan room, 11th floor (Open Event)
Quorn Foods   
Not all proteins are created equal: The Quorn story, from development to application
To feed 10 billion people a sustainable diet, the world requires healthy new proteins with a low environmental impact. Join us to discover a world of Quorn – how it is made, what the nutritional and environmental implications are of fungi based protein in the food system, and – most importantly – what it tastes like. The event will feature innovation insights from the leading meat alternative brand, a panel launch of a new White Paper entitled 'Protein Guidelines: Why the time is right for an update', and a networking lunch.
For further information, please contact Isabelle Kelly (Isabelle.Kelly@quornfoods.com)
2:00 – 5:00 pm, Venus room, 3rd floor (Open Event)
Climate KIC
Unlocking the Alternative Protein Market
The EAT-Lancet report brings to life the need for a rapid shift in diets and in agricultural practices. The access to sustainable alternative proteins will be a key driver of human and planetary health when we are to feed ten billion people in the future. With inspiration from leaders in the market, we will explore and understand the barriers and underlying trends, mindsets and structures that need to be shifted in order to enable alternative proteins to scale in the market and unlock transformative scale fast.
For further information, please contact Pernille Martiny Modvig (Pernille.martiny-modvig@climate-kic.org)
3:00 – 5:00 pm, Tre Kronor room, 5th floor (Open Event)
Open Farming
Transforming food production by reinventing value creation in agriculture
The Open Farming movement makes fresh and affordable food available to everyone, everywhere, everyday. Together, we free food production from patents, pesticides, plastics, and planes, making it better for us and better for the environment. The advent of monopoly rights in 1624 was a huge leap forward for innovation, but it's simply no longer fit for purpose. Open Farming replaces monopoly rights under legal code with revenue share under software code. When the digital process of farming is owned by a few powerful IT companies, every farmer becomes a tenant farmer. Open Farming resists such a trajectory — decentralizing and enabling rather than centralizing and controlling.
For further information, please contact Philip Sheldrake (philip@openfarming.net)
2:00 – 4:30 pm, Jupiter room, 3rd floor (Open Event)
Akshaya Patra
How do you Serve Three Billion Hot Lunches?
Bring your expertise and creativity to this human centered design workshop with Akshaya Patra – an NGO running the world's largest school feeding program in 15 thousand schools in India. Learn more about how we improve health and education outcomes, share impact stories from your own professional / personal journeys and together let's ideate solutions to positively impact the lives of five million children aged 6-14 by 2025. We are excited to co-facilitate this side event with our partner Board of Innovation and hope to see you there!
For further information, please contact Chandani Punia (Chandani@apusa.org)
2:00 – 5:00 pm (RSVP below)
Food System Dialogues
The Food Systems Dialogues (FSDs) are a global series of facilitated round-table discussions that encourage collective action for transforming food systems, bringing together leaders and practitioners from a diverse range of sectors. Initiating Partners of the FSDs are EAT, the Food and Land Use Coalition, the World Business Council for Sustainable Development and the World Economic Forum. Since June 2018, FSDs events have brought together more than 700 leaders and practitioners, representing a diverse range of food systems sectors. The FSDs will be a key opportunity to translate ideas and priorities discussed at the Stockholm Food Forum 2019 into proposals for action.
If you are interested in attending this side event, please RSVP here. For further information, please contact info@foodsystemsdialogues.org
1:00 – 3:00 pm (Invite Only)
Government of Sweden, supported by EAT
High-Level Political Roundtable
The Government of Sweden wishes to champion the important role that food systems action can play in addressing the intertwined challenges of climate change, poverty, health and well-being, and invites high-level political players to a roundtable discussion prior to EAT Stockholm Food Forum 2019 to advance the global food systems agenda beyond the Forum.
6:00 – 8:00 pm (RSVP below)
EAT, Government of Sweden, IFMSA-Sweden, National Council of Swedish Youth Organisations (LSU) & Swedish Society of Medicine's Student and Junior Doctor Section
Transforming the food system with youth
People under the age of 30 constitute the majority of the world's population, but only 2.2% of them are represented in the world's parliaments. This means that those with the most to lose, have the least say. If not through representation, how else can youth shape policy priorities? We invite you to an unconventional side-event where we skip talking to go straight to doing: embedding youth organizations in existing food policy processes.
This side event is at capacity. Do you still wish to express your interest and join the waiting list, please contact Elin Bergstrøm at elin@eatforum.org.
5:00 – 7:30 pm (Invite Only)
Friends of Ocean Action
Workshop on a Blue Food Coalition
The Friends of Ocean Action are holding a workshop with stakeholders from across terrestrial and aquatic food production systems to discuss the role that a Blue Food Coalition could play in mobilizing action and advancing progress on the role of the ocean and other aquatic sources in adequately, safely and sustainably feeding the planet now and into the future.
For further information, please contact Sophie Wood (sophie.wood@wri.org)
5:00 – 8:00 pm (Invite Only)
EAT & Government of Sweden
The health impacts of dietary shifts
The workshop will review and discuss existing knowledge and methodologies to understand the impacts of dietary shifts on risk factors, DALYs, and morbidity and (premature) mortality associated with diet-related diseases.
For further information, please contact Zahra Zeinali (zahra@eatforum.org)
5:00 – 6:30 pm, Quality Hotel Globe, 3rd Floor Reception Area (Invitation only – contact below for information)
The Global Friends and Tse Foundation 
Reception and conversation about a new initiative under the theme Food is Climate
We all recognize that humankind needs to cultivate a lighter footprint – in particular, linked to greenhouse gas emissions.  Food offers an entry into a new cultural discourse about how we live and what planetary impact we are having. We will engage in a conversation around a new initiative that we are crafting to contribute to climate literacy and to transforming the global food system – to make it climate-friendly, having more positive than negative climate impacts. The conversation itself will be "light" (as will our appetizers!) but meaningful.  We look forward to welcoming you.
For further information, please contact Nancy Smith (nsmith@theglobalfriends.org)
Wednesday 12 June
7:00 – 8:30 am, Pluto room, 3rd floor (Open Event)
Southern Africa Food Lab
Just Transition: Lesson's from Africa's most mature multi-stakeholder dialogue platform
South Africa's food system appears highly efficient but in reality, historic injustices and deep inequalities persist. For the past decade the Southern Africa Food Lab has navigated these divisions, curating processes aimed at surfacing conflicts and generating stretch collaborations. The outcomes, even when seemly misfires, have opened pathways to righting the system.
For further information, please contact Tatjana von Bormann (tvbormann@wwf.org.za)
7:00 – 8:30 am, Vintergatan room, 11th floor (Open Event)
Danone & Institute for Sustainable Development and International Relations
How can agroecology & regenerative agriculture accelerate the transitions towards sustainable food systems in Europe?
This round-table will focus on how agroecology and regenerative agriculture can jointly address the challenges of ensuring sustainable food systems for Europeans, protecting biodiversity and natural resources, and mitigating climate change while delivering healthy diets. It will draw on recent scientific studies, such as modelling, experiments on the ground and policy discussions to explore the potential of these agricultural models, the current barriers to implementation at scale, and how these can be overcome through policy, financial and business initiatives
For further information, please contact Agnès Martin (agnes.martin@danone.com)
7:00 – 8:30 am, Saturnus room, 3rd floor (Open Event)
World Business Council for Sustainable Development 
The Protein Transformation
There is an increased awareness about the role of food in sustaining healthy people and a healthy planet, with a focus on dietary shifts and in particular protein diversification. The 'protein transformation' which is called for, requires major changes in the consumption and production of all types of animal and plant-based proteins. This session aims at discussing 'transformation pathways' which have the most potential to improve people's health and the environment. Outcomes of this session will feed into the work of WBCSD to support the development of business solutions which optimize protein consumption and production to provide nutritionally healthy and environmentally sustainable diets for all, produced responsibly, within planetary boundaries, by 2030.
For further information, please contact Emeline Fellus (fellus@wbcsd.org)
7:00 – 8:30 am, Lilla Stjärnrummet, 11th floor (Open Event/RSVP below)
Nordic Food Policy Lab (Nordic Council of Ministers) & Hivos 
The power of gastronomy to democratize healthy food within planetary boundaries
From the National Plan for Healthy and Sustainable Gastronomy in Costa Rica, to the New Nordic Kitchen Manifesto, via ground-breaking gastronomy-related initiatives in Bolivia, South Africa and Indonesia, this will be a living lab for scalable solutions – from the policy level to the kitchen – on how to make healthy and sustainable food options the most desirable, affordable, and easy to choose. Meet pioneers and frontrunners from four continents sharing behind-the-scenes insights and strategies on how to successfully anchor sustainable and healthy diets in local food system realities through sustainable gastronomy. Inspirational stories will be followed by a co-creation session where we will identify the next generation of food solutions together.
If you are interested in attending this event, please RSVP here. For further information, please contact Marie Persson (marper@norden.org)
7:00 – 8:30 am, Tre Kronor room, 5th floor (Open Event) 
Foresight4Food
Novel Food Technologies at Scale – Disruptive Implications
Are we heading towards large scale production of novel foods such as algae, seaweed or insects? Could such innovations radically change food systems and what might be implications for land, water and energy use.  Join Foresight4Food and Rand Europe for an introduction and exploration of how to map the impact of emerging technologies.
For further information, please contact Jim Woodhill (jim.woodhill@ouce.ox.ac.uk)
7:00 – 8:30 am, Venus room, 3rd floor (Open Event)
Global Resilience Partnership
Food Transformation for All: What can business do to build resilience?
Global Resilience Partnership (GRP) and its partners have been assessing what it takes to deliver resilient food and agriculture systems in vulnerable and fragile states. Speakers will highlight how business can integrate resilience in food value chains benefiting markets and communities in the least developed countries. During interactive sessions, participants will be guided to identify the actions they can contribute towards equitable food system transformation. The side event will also outline engagement opportunities for the UN SG Climate Summit and the affiliated Building a Resilient Future on 22 September 2019.
Hosts
• Deon Nel, Chief Executive Officer, GRP
• Line Gordon, Director, Stockholm Resilience Centre
Inspiration Talks
• Johan Rockström, Director, Potsdam Institute for Climate Impact Research, Advisory Council Member, GRP
• David Nabarro, Strategic Director, 4SD & co-facilitator for Nature-based Solutions Workstream, UN SG Climate Action Summit
Power Pitches
• Assan N'gombe, Resilience Officer, Alliance for Green Revolution in Africa (AGRA)
• Theo del Jager, President, World Farmers' Organisation
• Scaling Up Nutrition (SUN) Movement Representative
Moderator
• Maya Rebermark, Head of Communications, GRP
For further information, please contact Maya Rebermark (mrebermark@globalresiliencepartnership.org)
7:00 – 8:30 am, Store Stjernrummet, 11th floor (Open Event)
Winnow & Oz Harvest
Accelerating progress towards a wasteless future
The EAT Lancet report identified halving food waste as critical to creating a sustainable global food system. With just over 10 years to hit the 2030 target set out in the UN Sustainable Development Goals, where should we be pushing for more urgent action to make this ambition a reality? Hear from panel members representing citizens, campaigning, technology, private sector, and policy in this lively debate.
Speakers & panel members:
Dr Richard Swannell, Director of WRAP Global will share the latest programs launching food waste reduction programs internationally;
David Jackson, head of marketing at Winnow will talk about the potential of AI to disrupt food waste in the hospitality sector;
Ronni Khan, CEO and founder will share her story founding and successfully scaling food rescue charity OzHarvest;
Elizabeth Balkan – director of NRDC's food waste and agriculture program shares their holistic approach to tackling global food waste.
For further information, please contact David Jackson (david.jackson@winnowsolutions.com)
7:00 – 8:30 am, Jupiter room, 3rd floor (RSVP below)
Commission on Sustainable Agricultural Intensification
Wake Up, Smell the Coffee! Breakfast with Cracking (not Scrambled) Solutions for Feeding 10B!
We'll have some great coffee (direct from Ethiopia), and some great ideas on how to sustainably intensify agriculture. But what's missing from the table? We will discuss how to plug the gaps with the best R&D – as we embark on a 18 month review of all the evidence we can find on what works.  Please come with fresh ideas (nothing pre-cooked…) for Feeding 10B or if you want to engage in our review – the Commission on Sustainable Agricultural Intensification.
If you are interested in attending this side event, please contact Izabella Koziell (i.koziell@cgiar.org) from the CGIAR Water, Land and Ecosystems Research Program
7:00 – 8:30 am, Skytten/Vattumannen room, 5th floor (Open Event)
UN Global Compact & Forum for the Future
Health, Climate, Nutrition – How do we realise opportunities for systemic change?
This session will take a deliberate systems lens to understand the intersections around our current health, climate and nutrition challenges and identify specific leverage points to drive long-lasting systemic change. We plan to consider a range of leverage points, including behaviour change, market mechanisms and knowledge transfer. The workshop will explore how we might unlock these leverage points to drive resilience in our health, climate and food systems.
For further information, please contact Charlotte Ersboll (ersboll@unglobalcompact.org)
Thursday 13 June
7:00 – 8:30 am, Pluto room, 3rd floor (Open Event)
CGIAR System Organization
Setting a new global agricultural innovation agenda: consultation on the CGIAR 2030 plan.
The task before us is momentous: a sustainable food systems revolution – as urgent as the agricultural revolution that launched the CGIAR, yet exponentially more complex. Most of the world eats too little, too much, or the wrong type food – at an unsustainable cost to environment and human health. This important consultation will seek inputs to CGIAR's research agenda, delivery models, and partnerships needed to deliver on the SDGs.
For further information, please contact Lynda Robertson (l.robertson@cgiar.org)
7:00 – 8:30 am, Venus room, 3rd floor (Open Event)
New York Academy of Sciences
Optimizing Nutrition Policy Decisions Using Linear Programming:  A Guided Tour and Hands-on Experience
What public health actions will best improve the nutritional status of the population, given finite resources? The Nutrition Modeling Consortium brings together various mathematical optimization tools to help governments develop efficient, complementary nutrition interventions. The session will present various examples of applications and offer participants the opportunity to experiment with some tools.
For further information, please contact Gilles Bergeron (gbergeron@nyas.org)
7:00 – 8:30 am, Vintergatan room, 11th floor (Open Event)
Food and Land Use Coalition
Fixing flawed incentives: how business, civil society and policy makers can collaborate to transform food and land use system settings
The Food and Land Use Coalition invites experts from business, civil society and government to participate in a set of round table consultations to explore how subsidy reform, international trade, land use planning, pricing externalities and regulation can create the right incentives for a food and land use system that enables us to meet the Paris Climate agreement, provides nutritious diets, protects biodiversity and promotes rural prosperity.
For further information, please contact Elinor Newman-Beckett (Elinor.newman-beckett@systemiq.earth) and Alexandra Philips (Alexandra.philips@systemiq.earth)
7:00 – 8:30 am, Saturnus room, 3rd floor (Open Event/RSVP below)
World Obesity Federation
Trade-offs, partnerships and policy inertia– getting to grips with the global syndemic of obesity, undernutrition and climate change
Building on the recent report of the Lancet Commission on Obesity, this interactive session will focus on breaking down civil society silos to address the Global Syndemic of obesity, undernutrition and climate change. In particular, it will focus on identifying synergies between issues and the platforms and opportunities for shared actions, exploring trade-offs and ways to overcome policy inertia, and finally prioritising double and triple win policies which civil society can coalesce around to help reduce policy inertia and address the global syndemic.
If you are interested in attending this side event, please RSVP here. For further information, please contact Hannah Brinsden (hbrinsden@worldobesity.org)
7:00 – 8:30 am, Tre Kronor room, 5th floor (Open Event)
World Business Council for Sustainable Development
Transforming the food environment: accelerating business action on positive nutrition
Malnutrition and unhealthy diets are important risk factors for non-communicable diseases but only addressing these through a food system lens will be successful. This means there need to be changes in what and how food is produced, marketed, and consumed. Food Reform for Sustainability and Health (FReSH) has been developing insights, tools and roadmaps to support business action which will be stress tested during this interactive and dynamic session. Our speakers will share their perspectives on this work before we seek your input to further build out and strengthen the business actions.
For further information, please contact Alison Cairns (Cairns@wbcsd.org)
7:00 – 8:30 am, Jupiter room, 3rd floor (Open Event)
World Business Council for Sustainable Development
Private Sector Action to Tackle Post-Harvest Loss and Food Waste
Strong business, social and environmental drivers to tackle post-harvest loss and food waste include reducing nutritional loss across the key value chain stages from production to consumption, financial savings, resource use efficiency, higher performance and contribution to emission reduction targets. This session will enable participants to learn more about some of the latest private sector action from across the whole agri-value chain that tackles post-harvest loss and food waste approaches. This cross-sector sharing is a key focus for WBCSD's work on this agenda and seeks to scale best practice through peer-learning, stimulating innovation and brokering new partnerships.
For further information, please contact Ruth Thomas (thomas@wbcsd.org)
12:30 – 2:00 pm (Invite Only)
EAT & UNICEF
Adolescent Thrive and Children Eating Well Consultation
The consultation on child and adolescents-rights based approach to food systems will review and pave the way for the adoption of a food systems approach to prevention of childhood and adolescence obesity and malnutrition and improving children and adolescents´ overall wellbeing.
For further information, please contact Zahra Zeinali (zahra@eatforum.org)
Friday 14 June
10:30 am – 12:00 pm, Pluto room, 3rd floor (Open Event)
CGIAR
Road testing healthy diets: Perspectives from the Global South 
This session will provide an entry point to examine the EAT-Lancet recommendations from a low- and medium-income countries perspective where most food is grown by small-scale producers. It will look at gender-equitable approaches to the sustainable intensification of small-scale farming, expanding access to markets and the implications of the global diet on health and nutrition outcomes in societies characterized by rapid urbanization and population growth.
For further information, please contact James Stapelton (j.stapleton@cgiar.org)
9:00 – 11:00 am, Saturnus room, 3rd floor (RSVP below)
University College London & Center for Research on Environment Health and Population Activities (CREHPA)
From evidence-informed to politically-informed: analysing the WHO Best Buys to combat unhealthy diets in Afghanistan, Bangladesh, Nepal, Pakistan, Tunisia and Vietnam
The WHO Best Buys have been promoted as providing evidence-informed guidance for countries in combatting unhealthy diets and promoting healthy diets. However, little is known about the extent national policy guidelines based on Best Buys comply with elements of effective, equitable, rights-based and accountable public policy. In this session we will present data from in-depth analysis of diet-related policies affecting Best Buys in 6 countries. Delegates will be given an opportunity to explore what the findings mean for global and national policy responses, and how we can better foster global advocacy coalitions to promote policies that take both evidence and politics into account.
If you are interested in attending this side event, please RSVP here. For further information, please contact Anna Purdie (a.purdie@ucl.ac.uk)
7:30 – 9:30 am (RSVP below)
Cities Changing Diabetes
Strategies to improve healthy food in cities
Healthy food is a key element in the prevention and management of chronic diseases (including type 2 diabetes) in cities. The healthy food choice should therefore be the most convenient, cheapest, and most delicious food option for everyone. This is currently not the case in most cities. Therefore, we must identify what the best strategies are to improve healthy food availability, accessibility, affordability and acceptability? And what the social and cultural barriers are for successful implementation hereof? Representatives from the global Cities Changing Diabetes Partnership Program will facilitate this interactive closed breakfast meeting. Participants are invited to contribute actively to the discussion and knowledge sharing – bringing in the lessons learned from the EAT Forum and their daily work around creating healthier cities.
If you are interested in attending this side event, please contact Claire van Hoolandt (cvh@novonordisk.com)
9:00 a.m. – 12:30 pm (Invite Only)
The Value Web, We Mean Business, WBCSD & WWF
Science Based Targets Network: Development Workshop
This workshop will bring together a core group of companies that have expressed interest in supporting the development of science-based targets for a range of issue areas across water, land, biodiversity, and ocean systems. The objectives for the corporate engagement at the EAT Forum are as follows:
Engage with a group of ambitious companies that have expressed an interest to contribute to the development of the SBT network;
Get agreement on a proposal of how interested companies will engage over the coming year;
Understand and agree on the mechanics of this engagement at a network level and at an issue level.