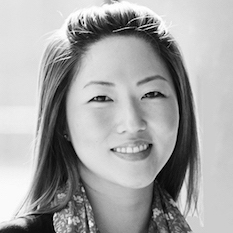 Erin has been working in cellular agriculture since 2014, when she started out at as one of New Harvest's first volunteers while completing a Juris Doctor at the University of Alberta, Canada. Erin's long held interests in futurism, sustainability, global catastrophic risk mitigation – and love of food – led her to the discovery of animal products made without animals.
Following the completion of her studies, Erin took on the role of Communications Director full-time, where she brings a down-to-earth approach to translating developments in New Harvest research into accessible content in print and on the web, fundraising communications, media relations, social media, and international outreach. Prior to lending her talents to cellular agriculture, Erin spent time in legal advocacy at Pivot Legal Society, and a number of years working in special education while completing her B.A. at the University of British Columbia. Her J.D. was awarded in 2016.
Erin loves having grown up in the Pacific Northwest, good design, yoga, and relating all things to Seinfeld.