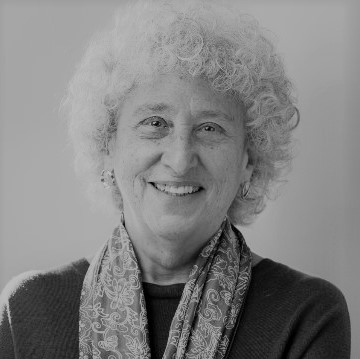 Marion Nestle is Paulette Goddard Professor of Nutrition, Food Studies, and Public Health, emerita, at New York University, in the department she chaired from 1988-2003 and from which she retired in September 2017. She is also Visiting Professor of Nutritional Sciences at Cornell. She holds honorary degrees from Transylvania University in Kentucky and the Macaulay Honors College of the City University of New York.
She earned a Ph.D. in molecular biology and an M.P.H. in public health nutrition from the University of California, Berkeley. Previous faculty positions were at Brandeis University and the UCSF School of Medicine. From 1986-88, she was senior nutrition policy advisor in the Department of Health and Human Services and editor of the 1988 Surgeon General's Report on Nutrition and Health. Her research and writing examine scientific and socioeconomic influences on food choice, obesity, and food safety, emphasizing the role of food marketing.
She is the author of six prize-winning books: Food Politics: How the Food Industry Influences Nutrition and Health; Safe Food: The Politics of Food Safety; What to Eat; Why Calories Count: From Science to Politics (with Dr. Malden Nesheim); Eat, Drink Vote: An Illustrated Guide to Food Politics; and Soda Politics: Taking on Big Soda (and Winning). She also has written two books about pet food, Pet Food Politics: The Chihuahua in the Coal Mine and Feed Your Pet Right (also with Dr. Nesheim).
From 2008 to 2013, she wrote a monthly Food Matters column for the San Francisco Chronicle food section. She blogs daily (almost) at www.foodpolitics.com. Her Twitter account, @marionnestle, has been named among the top 10 in health and science by Time Magazine, Science Magazine, and The Guardian, and has more than 145,000 followers.
She has received many awards and honors. She received the John Dewey Award for Distinguished Public Service from Bard College in 2010. In 2011, the University of California School of Public Health at Berkeley named her as Public Health Hero. Also in 2011, Michael Pollan ranked her as the #2 most powerful foodie in America (after Michelle Obama), and Mark Bittman ranked her #1 in his list of foodies to be thankful for. She received the James Beard Leadership Award in 2013, and in 2014 the U.S. Healthful Food Council's Innovator of the Year Award and the Public Health Association of New York City's Media Award, among others. In 2016, Soda Politics won literary awards from the James Beard Foundation and the International Association of Culinary Professionals. In 2018, she was named one of the UC Berkeley School of Public Health's 75 most distinguished graduates in 75 years, won a Trailblazer Award from the International Association of Culinary Professionals, and was selected Grande Dame of the year by Les Dames d'Escoffier International.
Her forthcoming book, Unsavory Truth: How Food Companies Skew the Science of What We Eat, will be published by Basic Books on October 30 this year.