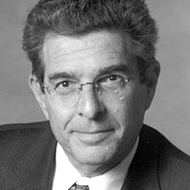 Ellis Rubinstein is President and CEO of the 196-year-old New York Academy of Sciences, a membership organization numbering over 24,000 scientists in 140 countries and with 30 Nobel Laureates on its Council.
Rubinstein served as Editor of Science magazine from 1993 to 2002. He has been Editor of The Scientist, Senior Editor at Newsweek, and Managing Editor of Science 86 and IEEE Spectrum. His journalism was honored by three National Magazine Awards.
Having organized the first national publishing agreement that permitted all Chinese scientists to receive Science on the Internet, Rubinstein became the first western journalist to interview Chinese President Jiang Zemin. He was also the first science journalist to interview then-President Bill Clinton.
At the New York Academy of Sciences, he has established groundbreaking international public-private partnerships in obesity and diabetes, Alzheimer's disease, science education, and "smart cities."
Mr. Rubinstein has forged partnerships with presidents, prime ministers, governors and mayors, and the Academy has alliances with scores of universities and multinational companies.