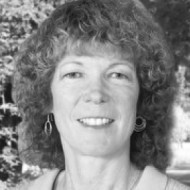 Ann Thrupp is the Executive Director of the Berkeley Food Institute at the University of California, Berkeley, which aims to develop and strengthen food and agriculture systems that are sustainable, healthy, just, diverse and resilient.
The Institute is a collaboration between the School of Natural Resources, Goldman School of Public Policy, School of Public Health, Journalism School and Law School at UCB. Between 2003 and 2013, Ann Thrupp was the Manager of Sustainability and Organic Management at Fetzer and Bonterra Vineyards, where she also coordinated grower relations and assisted growers in the transition to organic and sustainable practices. She regularly gives presentations at conferences and seminars in the US and abroad.
Ann also served as the Managing Director and consultant for the California Sustainable Winegrowing Alliance (CSWA) from 2005 to 2007. Prior to this, Ann worked with the Environmental Protection Agency's Agriculture Initiative in the Western Regional office, managing partnerships and grants to support sustainable farming initiatives. Ann also has many years of experience in international agroecology, natural resource management, sustainable development, and food security. From 1990 to 1998, she was Director of Sustainable Agriculture at the World Resources Institute, with a focus on projects in Latin America.
Ann Thrupp has a PhD and MA in Development Studies from Sussex University, where shes studied on a Marshall Scholarship, and a BA in Human Biology and Latin American Studies from Stanford University. She speaks Spanish fluently. Ann has over 70 publications and served on a Scientific Advisory Committee of the CA Department of Food and Agriculture, as well as two committees of the National Academy of Science. She is a graduate of the California Agriculture Leadership Program. Ann is an avid runner and enjoys roller-blading, hiking, gardening, and creative writing.